Tourist's Preference for Cultural Heritage Sites –A Case of Rameshwaram, Tamilnadu, India
Keywords:
Cultural Heritage Sites, Tourist's preference, Heritage Tourism
Abstract
This paper aims to investigate the reasons why people visit a site where historic artifacts are located and their activity level preferences of the sites. The study is exploratory and descriptive in nature. Both quantitative and qualitative methodologies are applied. The sample size was 420. Convenience sampling method was adopted to collect quantitative data from tourists. The tour preference does not vary among all the age group of the tourists. Tourists in all age groups had visited the site for heritage, vacation and as jolly trip. The foreign tourists visit this site as a jolly trip. They were unaware about the holy secret of this site Rameshwaram. The tourists felt that availability of transportation to reach the site and the facilities for food and accommodation are important factors for the preference of the site.
Downloads
Download data is not yet available.
References
Ashworth, G.J. (1998). Heritage, identity and interpreting a European sense of place. In D. Uzzell & R.Ballantyne (Eds.), Contemporary issues in heritage and environmental interpretation (pp. 112-132).London: The stationary office
Espelt, N. G., & Benito, J. A. D. (2006). Visitors' behavior in heritage cities: The case of Girona. Journal of Travel Research, 44(4), 442-448.
Garrod. B & Fyall. A., (2000). Managing heritage tourism, Annals of Tourism Research, Vol. 27: 682-708.
Grimwade, G. & Carter, B. (2000). Managing small heritage sites with interpretation and community involvement. International Journal of Heritage Studies, 6(1), 33-48.
Hall, C. M. and McArthur, S. (1998) Integrated heritage management: Principles and practice, London: Stationery Office
Herbert, D. (2001). Literary places, tourism and the heritage experience. Annals of Tourism Research, 28(2), 312-333.
Johnson, N. C. (1999). Framing the past: time, space and the politics of heritage tourism in Ireland. Political Geography, 187-207.
Leask, A. and Yeoman, I. (1999). Heritage visitor attractions: An operation management Perspective. (eds.) London: Cassell.
Lee, C. (1999). Investigating tourist attachment to selected coastal destination: An application of place attachment. Clemson University.
Light, D. (1996). Characteristics of the audience for events' at a heritage site. Tourism Management, 17(3), 183-190.
Liu, J. C., Sheldon, P. & Var, T. (1987). "Resident perceptions of the environmental impact of tourism", Annals of Tourism Research, Vol.14, 17-37.
Nuryanti, W. (1996). Heritage and postmodern tourism. Annals of Tourism Research, 23(2), 249-260.
Petrosilli, I., Zurlinin, G., Zaccarelli, N. and et al. (2007) Tourist Perception of Recreational Environment and Management in a Marine Protected Area, Landscape and Urban Planning, 79: 29-37.
Poria, Y., Butler, R. and Airey, D. (2003). The Core of Heritage Tourism, Annals of Tourism Research, 30: 238-254.
Poria, Y., Reichel, A., & Biran, A. (2006). Heritage site management: Motivations and expectations. Annals of Tourism Research, 33(1), 13-17
Rojas, C. D. & Camarero, C. (2008). Visitors' experience, mood and satisfaction in a heritage context: Evidence from an interpretation center. Tourism Management, 29(3), 525-537.
Schulz, C. N. (1980). Genius loci: towards a phenomenology of architecture. New York: Rizzoli.
Tian, X., Ding, J. & Pu, Y. (2007). Research on entrance fee pricing of world heritages and national scenery in China. China Population, Resources and Enviornment, 17(1), 56-60.
Tunbridge, J. E. & Ashworth, G. J. (1996) Dissonant heritage: The management of the past as a resource in conflict, West Sussex: John Wiley and Sons Limited
Waitt, G. (2000). Consuming heritage: perceived historical authenticity. Annals of Tourism Research, 27(4), 835-862.
Yan, C., & Morrison, A. M. (2007). The influence of visitors' awareness of World Heritage Listings: A case study of Huangshan, Xidi and Hongcun in Southern Anhui, China. Journal of Heritage Tourism, 2(3), 184-195.
Yavuz, N.F (1994). A market segmentation study of visitors to North Cyprus through importance-performance analysis of destination attributes. Virginia Polytechnic Institute and State University. http://hdl.handle.net/10919/45052
Yavana Rani.S, Geetha. V., Muthukumar. N. (2017). An empirical study on the impact of tourism development and community participation on rural tourism support Strategies, International Journal of Economic Research (IJER), 14(1),13-22.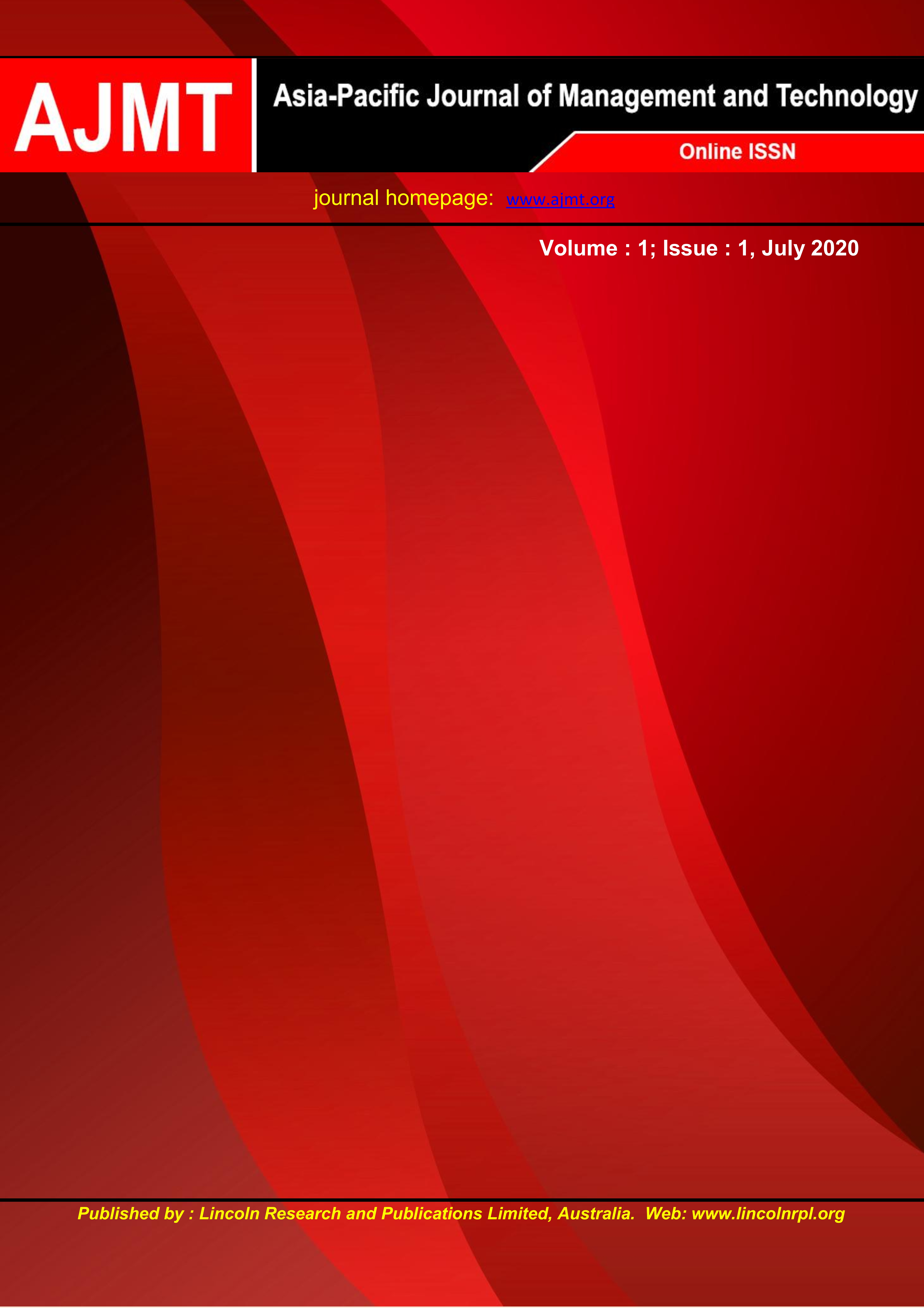 Published
2020-06-06 — Updated on 2020-07-28
How to Cite
Yavana Rani Subramanian. (2020). Tourist's Preference for Cultural Heritage Sites –A Case of Rameshwaram, Tamilnadu, India. Asia-Pacific Journal of Management and Technology (AJMT), 1(1), 1-7. https://doi.org/10.46977/apjmt.2020.v01i01.001 (Original work published June 6, 2020)
Copyright (c) 2020 Asia-Pacific Journal of Management and Technology
This work is licensed under a Creative Commons Attribution-NonCommercial 4.0 International License.