Impact of Lock-Down on Banking Sector in India
Keywords:
Lock-down; COVID-19; Banking sector; Banking Indices; demonetisation
Abstract
As we all are living in lock-down situation due to COVID-19, we have witnessed many ups and downs in Indian economy, especially in banking sector. However, finance sector is backbone for the growth of any country developing as well as developed economy. During last five years Indian banking sector has been facing many problems and challenges. Banks are basic necessity for any human-being irrespective of his economic class. Thus, here, researcher has tried to find out impact of lock-down on two important banking indices; S & P BSE Bankex and Nifty Bank in respect of banking returns by using paired t-test one month pre and post lock-down period. The findings will be useful to many investors as well as banks and policy makers. No doubt, there are many reforms in banking industry since last five years due to demonetisation and various scamps, such study will give insight about performance of Indian Banking Industry.
Downloads
Download data is not yet available.
References
Bhasin, N.K., & Rajesh, A. (2018). A Study of Digital Payments: Trends, Challenges and Implementation in Indian Banking System. IJVCSN, 10, 46-64. https://doi.org/10.4018/ijvcsn.2018010104
Duraj B, M. E. (2015). Factors influencing the bank profitability- empirical evidence from albania. Asian Economic and Financial Review, 5 (3), 483-494.
https://www.bseindia.com/indices/IndexArchiveData.html
https://www1.nseindia.com/products/content/equities/indices/historical_index_data.htm
Mehta K. & Jha S. (2020). COVID-19: A nightmare for the Indian Economy. Purakala, 31 (20), 333-347.
Singh, Makkar. (2016.). A Study of Non-Performing Assets of Commercial Banks and it's recovery in India. Annual Research Journal of Symbiosis Centre for Management Studies, 4, 110-125.
Vardhan, H., Sinha, P., and Vij, M. (2015). Behavior of Indian Sectoral Stock Price Indices in the Post Subprime Crisis Period. Journal of Advances in Management Research, 12 (1), 15-29.
Vijayalakshmi B. (2016). A Study on Contemporary Challenges and Opportunities of Retail Banking in India. Global Journal of Finance and Management.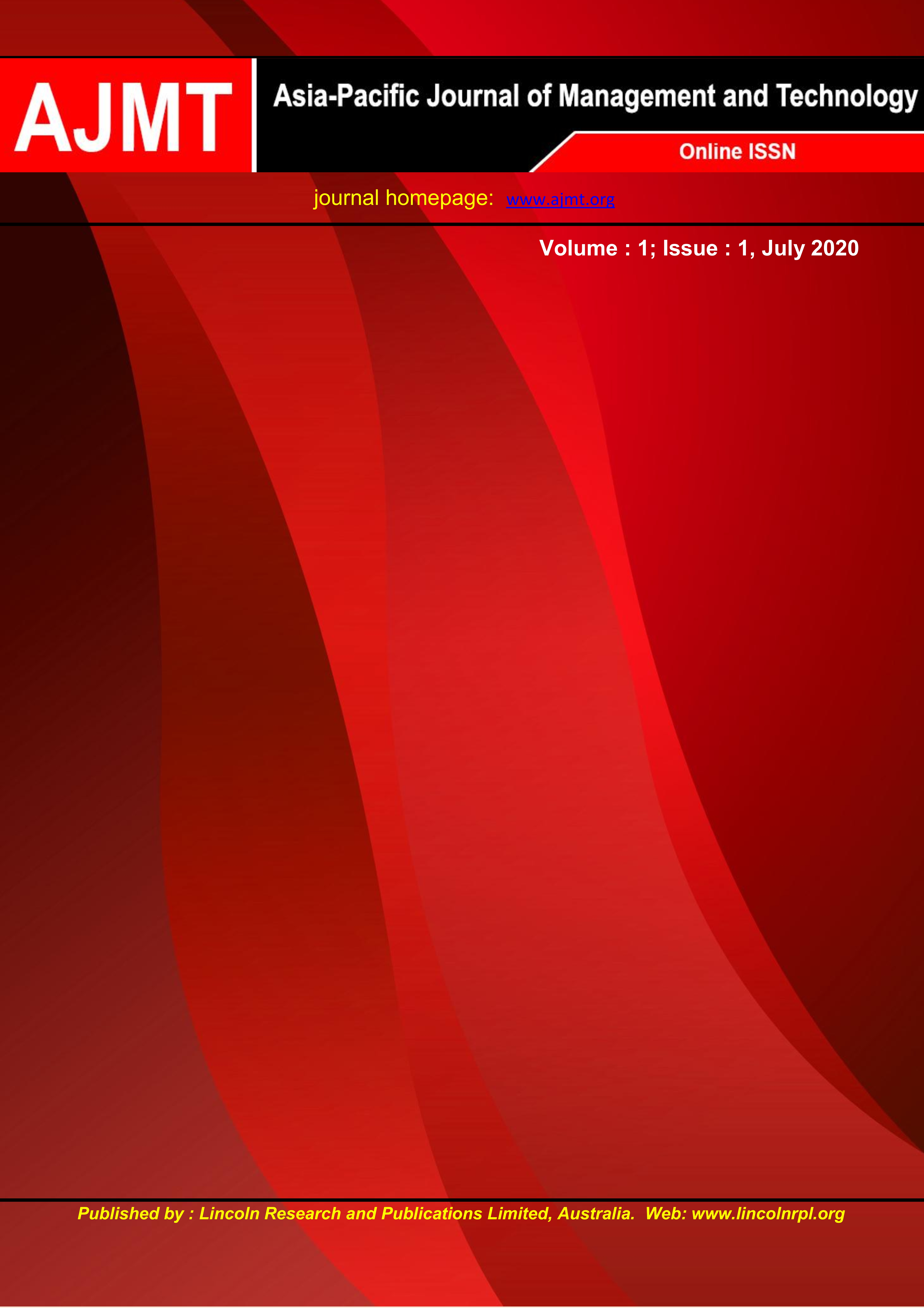 How to Cite
Vyas, R. (2020). Impact of Lock-Down on Banking Sector in India. Asia-Pacific Journal of Management and Technology (AJMT), 1(1), 13-16. https://doi.org/10.46977/apjmt.2020.v01i01.003
Copyright (c) 2020 Asia-Pacific Journal of Management and Technology
This work is licensed under a Creative Commons Attribution-NonCommercial 4.0 International License.