Socio-Economic Impact of Select Infrastructure Projects – A Study Based on Howrah Bridge, West Bengal, India
Keywords:
Infrastructure Projects, Socio-Economic Development, Howrah Bridge, Equal Economic Distribution, Exploratory Factor Analysis
Abstract
In India the present economy must be reconstructed. For thatwe need innovative infrastructure such as sanitation, drivable roads and potable water. Formerly, many governments used to finance for infrastructure projects by supportigthese projects. But this support is no longer sustainable in developed countries due to the emerging deficits and sovereign debt. Additionally, infrastructure stimulus packages will reasonably reverse as governments look to bring their financial condition under control. The present research will try to evaluate the socio-economic development by looking at opportunities for economic productivity, socio-economic capability to enhance a sustainable and healthy life with equal economic distribution. The tools used here are Exploratory Factor Analysis mainly, using Principal Component Analysis with Varimax Method of rotation. The study has been done on our heritage bridge i.e Howrah Bridge and it has been sub-divided into various sub-sections based on a structured questionnaire.
Downloads
Download data is not yet available.
References
Bateson, E., Howorth, G. E., Fuller, F. M., Hamilton, J., Turner, J., Measor, E., & Ward, A. (1947). Discussion. The New Howrah Bridge, Calcutta: Design of The Structure, Foundations and Approaches. Construction. Papers 5612 & 5601.Journal of the Institution of Civil Engineers, 28(7), 237-257.
Cronbach, L. J. (1949). Essentials of psychological testing. Harper.
Ehlers, T. (2014). Understanding the challenges for infrastructure finance.Retirived from : https://www.bis.org/publ/work454.pdf
Estache, A. (2004). Emerging infrastructure policy issues in developing countries: A survey of the recent economic literature. The World Bank.
Frangopol, D. M., & Liu, M. (2007). Maintenance and Management of Civil Infrastructure Based on Condition, Safety, Optimization, And Life-Cycle Cost. Structure and Infrastructure Engineering, 3(1), 29-41.
Heo, M., Kim, N. & Faith, S. M. (2015). Statistical power as a function of Cronbach alpha of instrument questionnaire items. BMC Medical Research Methodology. 15:86. DOI 10.1186/s12874-015-0070-6
Inderst, G. (2009). Pension fund investment in infrastructure. doi:10.1787/227416754242. www.oecd.org/daf/fin/wp. 32
Keith, S.T. (2018). The Use of Cronbach's Alpha When Developing and Reporting Research Instruments in Science Education. Res Sci Educ. 48. 1273–1296. DOI 10.1007/s11165-016-9602-2
Montgomery, M. A., & Elimelech, M. (2007). Water and Sanitation in Developing Countries: Including Health in The Equation. Environmental Science & Technology, 41(1), 17-24.
Mor, N. &Sehrawat, S. (2006). Sources of Infrastructure Finance, Working Paper Series of The Institute for Financial Management and Research centre For Development Finance
Saravanan, P. (2008). Financing Sustainable Infrastructure-Assessing the Risks in Public Private Partnership Models. The Chartered Secretary Journal, November.. http://ssrn.com/abstract=1520939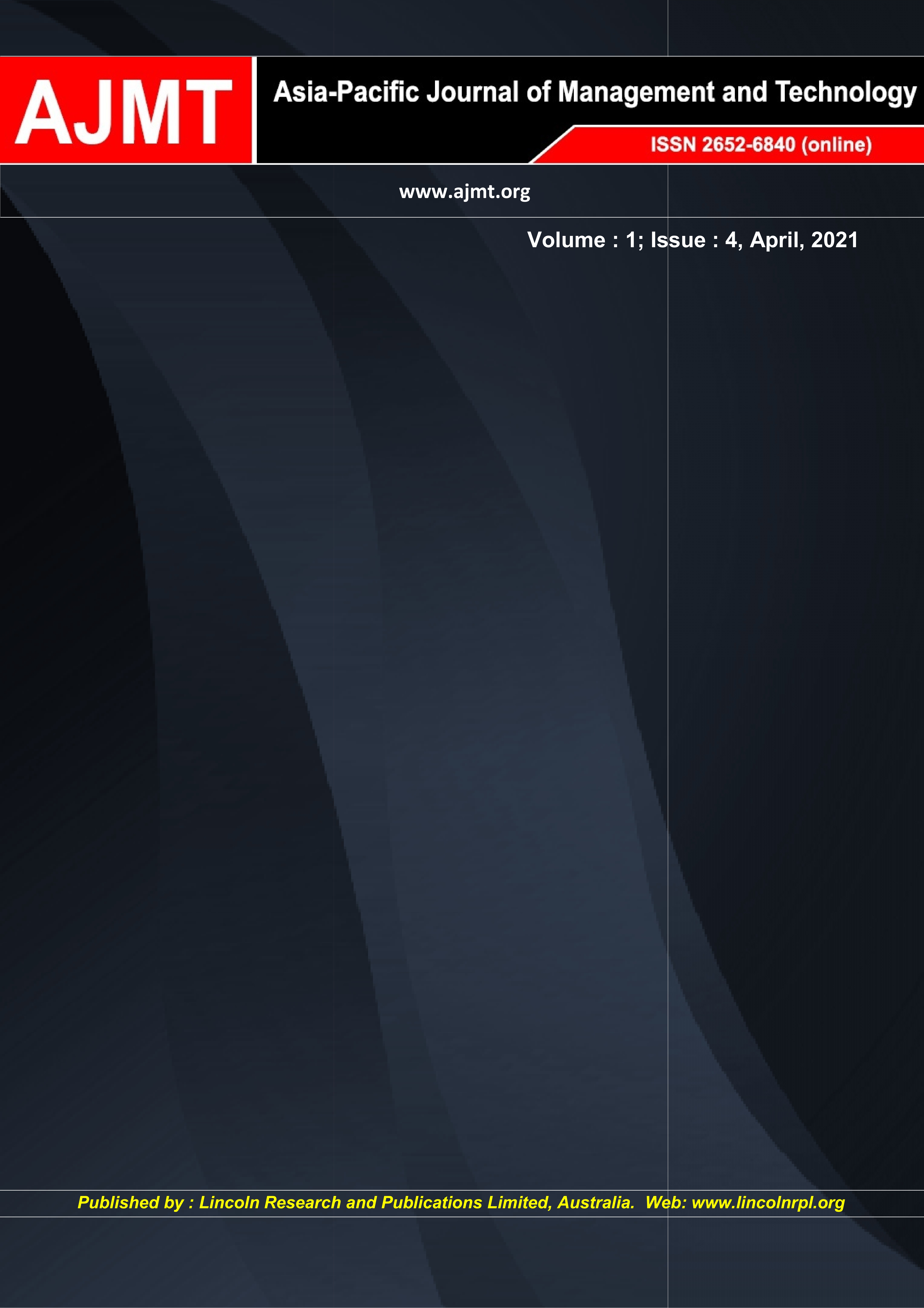 How to Cite
Sayan Basu, & Pranam Dhar. (2021). Socio-Economic Impact of Select Infrastructure Projects – A Study Based on Howrah Bridge, West Bengal, India. Asia-Pacific Journal of Management and Technology (AJMT), 1(4), 27-30. https://doi.org/10.46977/apjmt.2021v01i04.05
Copyright (c) 2021 Asia-Pacific Journal of Management and Technology
This work is licensed under a Creative Commons Attribution-NonCommercial 4.0 International License.