The Factors in Influencing the Success of a Virtual Office in Civil Engineering Design Industry in Singapore
Keywords:
Virtual Office, Online Facility, Working Culture, Civil Engineering
Abstract
Virtual offices are becoming increasingly popular in wide range of industries which comes by virtue of its various economic benefits and increased accessibility to the marketplaces. Virtual offices are eliminating the space and time constraints making it possible to work anytime from anywhere. Alongside, it is also helping the environment in multiple ways by cutting down the transportation need, reducing energy wastages. However, virtual office concept is very new to civil engineering design industry in Singapore. This specific industry is depending almost entirely on the traditional office culture where human resource management problems persist typically. Highly competitive working culture in Singapore demands qualified employees and an effective output delivery, keeping the cost incurrence as less as possible to thrive in a business. There is not much research done in the past to build successful virtual office models in Civil engineering design industry in Singapore. This study examines the factors influencing the success of a virtual office in this industry in Singapore. It can be concluded that it is always good to have physically located staffs. Virtual office in civil engineering industry must be present partially which could bring economic and administrative profits.
Downloads
Download data is not yet available.
References
Alonso-Rasgado, T., & Thompson, G. (2006). A rapid design process for total care product creation. Journal of Engineering Design, 17(6), 509-531.
Aon (2018).Want to know how you can turbocharge employee engagement?SME Portal Singapore: [Accessed 10 Feb 2020] Available:https://www.smeportal.sg/content/smeportal/en/bizguides/humanresources/2015/SMEs-in-Singapore-can-turbocharge-employee-engagement.html
Brewer, P. E. (2010). Miscommunication in international virtual workplaces: A report on a multicase study. IEEE Transactions on Professional Communication, 53(4), 329-345.
Building and construction authority Singapore, official website: www.bca.gov.sg
Dirks, K. T. (1999). The effects of interpersonal trust on work group performance. Journal of Applied Psychology, 84(3), 445.
Guest, D. (2002). Human resource management, corporate performance and employee wellbeing: Building the worker into HRM. The journal of industrial relations, 44(3), 335-358.
Harmon, T. C., Burks, G. A., Giron, J. J., Wong, W., Chung, G. K., & Baker, E. L. (2002). An interactive database supporting virtual fieldwork in an environmental engineering design project. Journal of Engineering Education, 91(2), 167-176.
Ho, R. (2013). Handbook of univariate and multivariate data analysis with IBM SPSS. CRC press.
Hoegl, M., & Muethel, M. (2016). Enabling shared leadership in virtual project teams: A practitioners' guide. Project Management Journal, 47(1), 7-12.
Lipnack, J., & Stamps, J. (1997). Virtual teams: Reaching across space, time, and organizations with technology. New York: J. Wiley.
McDaniel, C. L. (2008). Removing space and time: Tips for managing the virtual workplace. In Virtual Communities: Concepts, Methodologies, Tools and Applications (pp. 2275-2285). IGI Global.
Preston, C. C., & Colman, A. M. (2000). Optimal number of response categories in rating scales: reliability, validity, discriminating power, and respondent preferences. Acta psychologica, 104(1), 1-15.
Saunders, M., Lewis, P., & Thornhill, A. (2012). Research methods for business students (6th ed.). Es-sex, UK: Pearson Education.
Tsatalos, O., & Karamanlakis, S. (2017). U.S. Patent No. 9,672,491. Washington, DC: U.S. Patent and Trademark Office.
Zaccaro, S. J., Ardison, S. D., & Orvis, K. L. (2004). Leadership in Virtual Teams. Leader Development for Transforming Organizations: Growing Leaders for Tomorrow, Routledge, USA. 267-292.
Zemliansky, P., & St Amant, K. (Eds.). (2008). Handbook of research on virtual workplaces and the new nature of business practices. IGI Global.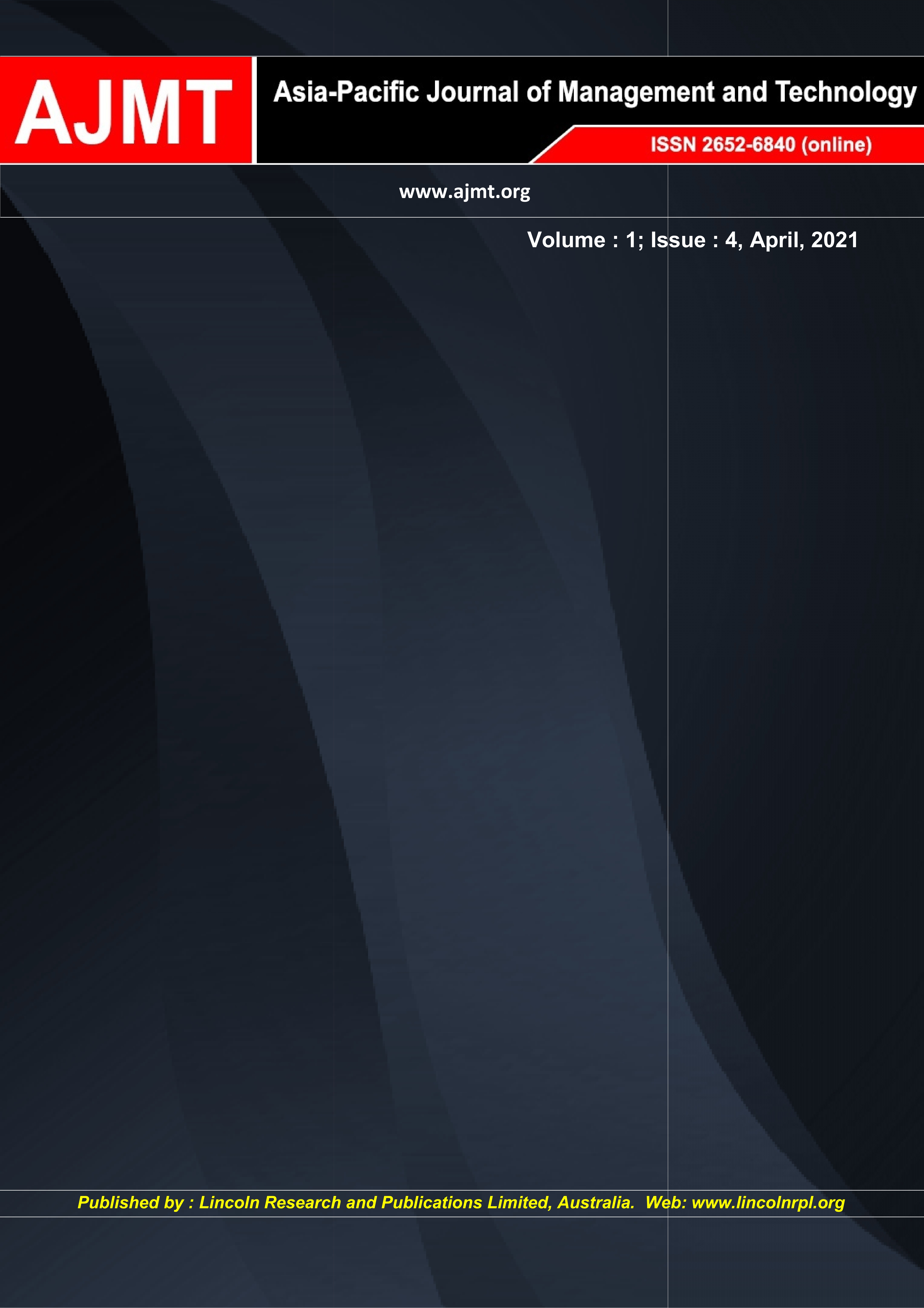 How to Cite
Senjuti Goswami, Sandeep Poddar, & Thirunavukkarasu Thayanthan. (2021). The Factors in Influencing the Success of a Virtual Office in Civil Engineering Design Industry in Singapore. Asia-Pacific Journal of Management and Technology (AJMT), 1(4), 4-10. https://doi.org/10.46977/apjmt.2021v01i04.02
Copyright (c) 2021 Asia-Pacific Journal of Management and Technology
This work is licensed under a Creative Commons Attribution-NonCommercial 4.0 International License.