Reaping the Benefits of Virality in Advertising - A Study of the Indian Scenario
Keywords:
e-WOM; Viral Marketing; Viral Advertising; Network enhanced word of Mouth
Abstract
With the rapid and unprecedented growth and advancement of digital technology, the present world is experiencing several changes and innovations in every field. In this world of change, innovations in marketing and advertising are definitely in the front row. Actually, the global cut-throat competition has impelled sellers, advertisers and marketers to use alternative techniques and compliment their traditional techniques with newer ones to reach their prospective customers. In simple words, advertising and marketing now takes place digitally in addition to the traditional modes. One such popular technique of marketing products and services through digital media is Viral Marketing. It refers to the spreading of product and service related information to a massive audience at a very fast speed through the use of the internet based services like blogs, tweets, e-mails, social networking sites, company websites, mobile messages etc. As these viral messages are transmitted digitally, they carry the benefit of being low cost or no-cost, speedy and high–impact mode of disseminating product and service related information to the prospects. India, being a country with the second highest population in the world and blessed with a huge internet using population base is one of the best Viral Marketing Destinations. The authors in this study have tried to show the effectiveness of Viral Marketing campaigns in India with the help of selected viral advertisements in recent times. The term Viral Marketing has also been known by terms like electronic Word of Mouth (e-WOM), Network enhanced word of mouth marketing, Stealth Marketing etc.
Downloads
Download data is not yet available.
References
Clement, J. (2020). Facebook users by country 2019. Retrieved May 10, 2020, from https://www.statista.com/statistics/268136/top-15-countries-based-on- number-of-facebook-users/
Deighton, J. A., and R. C. Blattberg.(1991). Interactive Marketing: Exploiting the age of Addressability. MIT Sloan Management Review 33(1), 5–14.
Goldenberg J., Libai B. and Muller E. (2001). Talk of the network: A complex systems look at the underlying process of word-of mouth. Marketing Letters, 12(3), 211-223,
Hennig-, T., Gwinner, K. P., Walsh, G., & Gremler, D. D. (2004). Electronic word-of-mouth via consumer-opinion platforms: what motivates consumers to articulate themselves on the internet?.Journal of interactive marketing, 18(1), 38-52.
Indo Asian News Service. (2019). YouTube now has 265 million users in India. Retrieved May 11, 2020, from https://www.hindustantimes.com/tech/youtube-now-has-265-million-users-in-india/storyj5njXtLHZCQ0PCwb57s40O.html
Internet Top 20 Countries - Internet Users 2020. (2020). Retrieved May 10, 2020, from https://www.internetworldstats.com/top20.htm
Jurvetson, Steve.(2000). What exactly is viral marketing?. Red Herring Communications, 110-111
Kaikati A. M. and Kaikati J. G. (2004).Stealth marketing: How to reach consumers surreptitiously. California Management Review, 46(4), 6-22,
Kirby, J., & Marsden, P. (2006). Connected marketing: The viral, buzz and word of mouth revolution. Oxford: Butterworth-Heinemann.
Kiss, Christine., and Bichler, Martin. (2008). Identification of influencers — Measuring influence in customer networks. Available from: https://www.researchgate.net/publication/222821584
Kotler, Philip., Wong, Veronica., Saunders, John., and Armstrong, Gary. (2005). Principles of Marketing, Fourth European edition, Pearson Education Limited, ISBN-10: 0-273-68456-6
Sonawane, M. Ajay. and Chaudhari Pramod R. (2015). Viral Marketing- Social Advertising Or Commercial Endeavour: An Experimental Research. International Journal of Management (IJM), 6(5), 53-62.
Thomas G. M. (2004). Building the buzz in the hive mind. Journal of Consumer Behaviour, 4(1), 64-72
Viral: Meaning in the Cambridge English Dictionary. (n.d.). Retrieved May 10, 2020, fromhttps://dictionary.cambridge.org/diction nary/english/viral
WhatsApp reaches 400 million users in India, its biggest ... (2019). Retrieved May 10, 2020, from https://techcrunch.com/2019/07/26/whatsapp-india-users-400-million/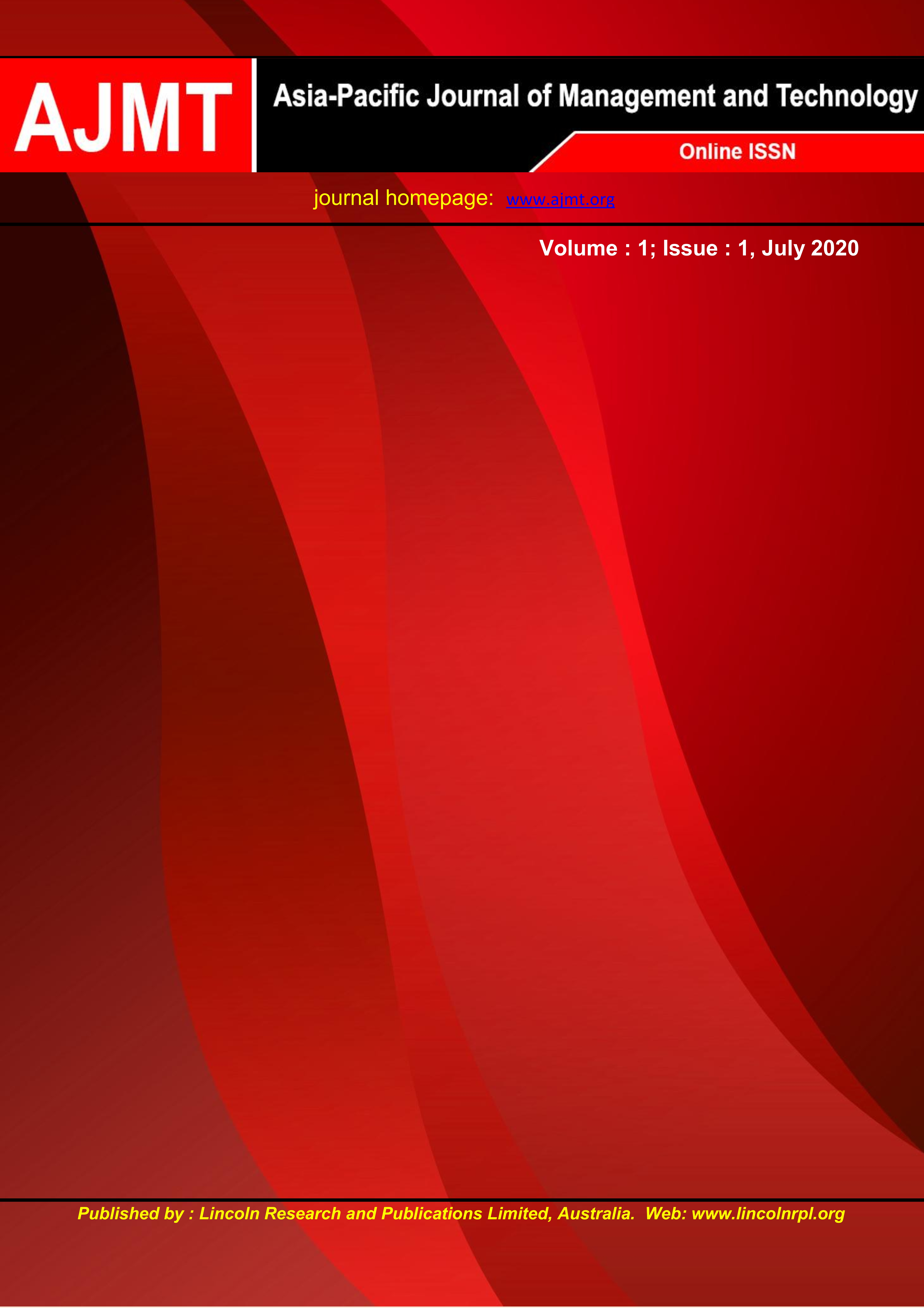 How to Cite
Saha, K., & Dhar, P. (2020). Reaping the Benefits of Virality in Advertising - A Study of the Indian Scenario. Asia-Pacific Journal of Management and Technology (AJMT), 1(1), 24-29. https://doi.org/10.46977/apjmt.2020.v01i01.005
Copyright (c) 2020 Asia-Pacific Journal of Management and Technology
This work is licensed under a Creative Commons Attribution-NonCommercial 4.0 International License.