The Power of Destructive Innovation Generation and Evolution: Changes in Customer Value System
Keywords:
Disruptive Innovation, Customer Value, Technological Innovation, Global Market, Big Industries
Abstract
Destructive innovation will progressively enter the global markets as efficiency rises, devouring more customer base until it replaces the previous top technology. The competitors' ability to compete has been weakened by destructive innovation, which has altered the industry's old norms of competitiveness. The idea created a brand-new customer value structure that newcomers can use strategically to catch up. The study of negative innovation has gained popularity in technological finance and strategic management. The issue with equating disruptive innovation with any scientific discovery that modifies the nature of competition in a market would be that various forms of development demand multiple sorts of strategic approaches. It's not likely that every business in a changing market will indeed be able to benefit from the insights that can be learned on how to become a successful "disruptive innovator" (or "fight off a disruptive rival").
Downloads
Download data is not yet available.
References
Chemma, N. (2021). Disruptive innovation in a dynamic environment: a winning strategy? An illustration through the analysis of the yoghurt industry in Algeria. Journal of Innovation and Entrepreneurship, 10(1), 1-19. https://doi.org/10.1186/s13731-021-00150-y
Guo, J., Pan, J., Guo, J., Gu, F., & Kuusisto, J. (2019). Measurement framework for assessing disruptive innovations. Technological Forecasting and Social Change, 139, 250-265.
Harvard Business Review. (2015). What Is Disruptive Innovation?. https://hbr.org/2015/12/what-is-disruptive-innovation
Hopp, C., Antons, D., Kaminski, J., & Oliver Salge, T. (2018). Disruptive innovation: Conceptual foundations, empirical evidence, and research opportunities in the digital age. Journal of Product Innovation Management, 35(3), 446-457.
Jin, B. E., & Shin, D. C. (2020). Changing the game to compete: Innovations in the fashion retail industry from the disruptive business model. Business Horizons, 63(3), 301-311.
Kumaraswamy, A., Garud, R., & Ansari, S. (2018). Perspectives on disruptive innovations. Journal of Management Studies, 55(7), 1025-1042.
Lähteenmäki, I., Nätti, S., & Saraniemi, S. (2022). Digitalization-enabled evolution of customer value creation: An executive view in financial services. Journal of Business Research, 146, 504-517.
Li, B., & Huang, L. (2019). The effect of incremental innovation and disruptive innovation on the sustainable development of manufacturing in China. Sage Open, 9(1), 2158244019832700. https://journals.sagepub.com/doi/pdf/10.1177/2158244019832700
Millar, C., Lockett, M., & Ladd, T. (2018). Disruption: Technology, innovation and society. Technological Forecasting and Social Change, 129, 254-260.
Mookerjee, J., & Rao, O. R. S. (2021). A Review of the Impact of Disruptive Innovations on Markets and Business Performance of Players. International Journal of Grid and Distributed Computing, 14(1), 605-630.
O'Reilly, C., & Binns, A. J. (2019). The three stages of disruptive innovation: Idea generation, incubation, and scaling. California Management Review, 61(3), 49-71.
Palmié, M., Wincent, J., Parida, V., & Caglar, U. (2020). The evolution of the financial technology ecosystem: An introduction and agenda for future research on disruptive innovations in ecosystems. Technological Forecasting and Social Change, 151, 119779.
Ramdani, B., Binsaif, A., & Boukrami, E. (2019). Business model innovation: a review and research agenda. New England Journal of Entrepreneurship, 22 (2), 89-108. https://doi.org/10.1108/NEJE-06-2019-0030
Sheth, J. N. (2019). Customer value propositions: Value co-creation. Industrial Marketing Management, 87, 312-315.
Tyfield, D. (2018). Innovating innovation—Disruptive innovation in China and the low-carbon transition of capitalism. Energy Research & Social Science, 37, 266-274.
World Bank Group. (2019). Innovative China: New Drivers of Growth. Washington, DC: World Bank. https//doi.org/10.1596/978-1-4648-1335-1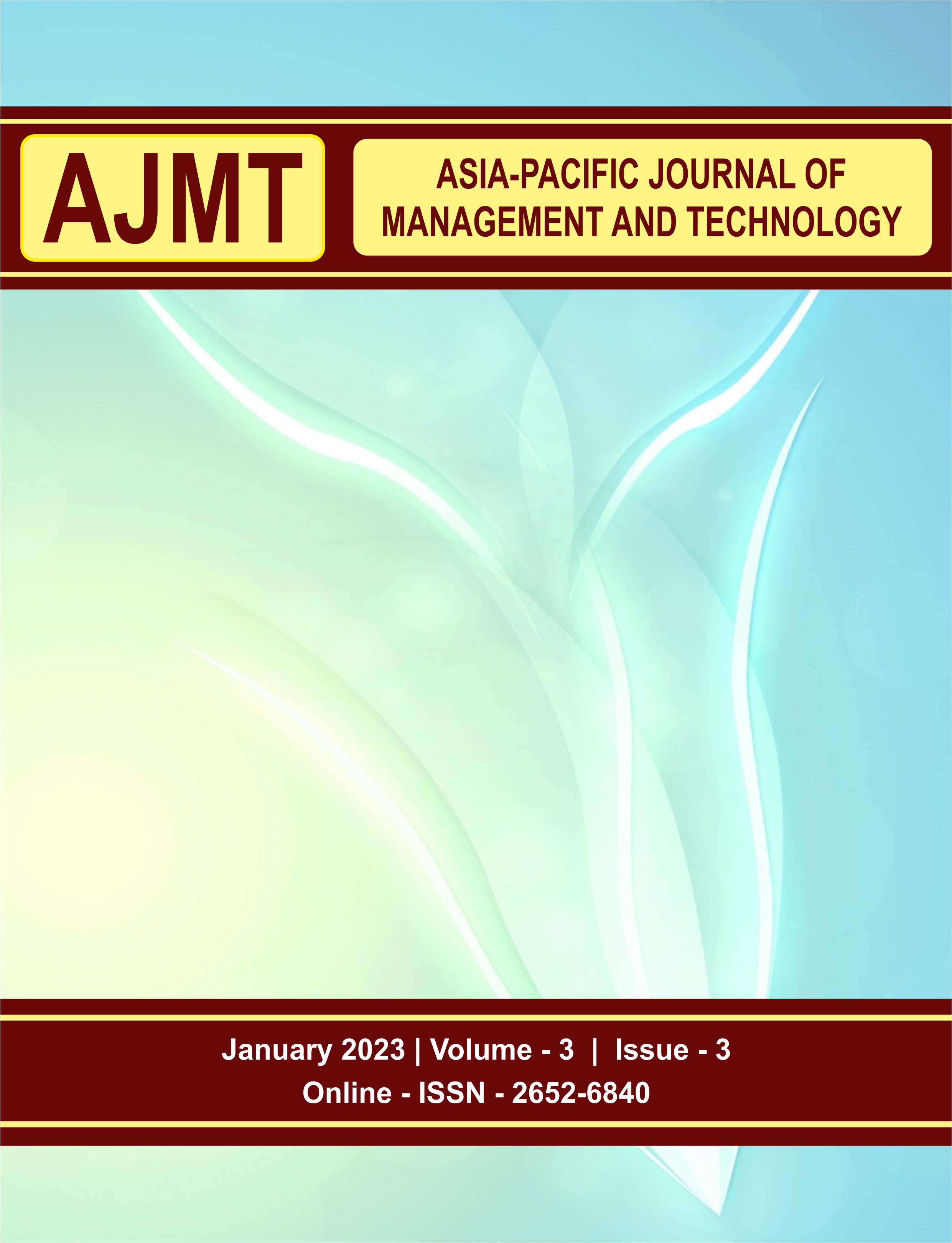 How to Cite
Jei, W., & Bhaumik , A. . (2023). The Power of Destructive Innovation Generation and Evolution: Changes in Customer Value System. Asia-Pacific Journal of Management and Technology (AJMT), 3(3), 1-7. https://doi.org/10.46977/apjmt.2023.v03i03.001
Copyright (c) 2023 Asia-Pacific Journal of Management and Technology (AJMT)
This work is licensed under a Creative Commons Attribution-NonCommercial 4.0 International License.