Flavored Carbonated Beverages: A Case Study on Bisleri Pop
Keywords:
Soft Drink, Bisleri Pop, Company's Position, Descriptive Study
Abstract
"Flavored carbonated beverages" are popularly known as "Soft Drinks" which typically contain carbonated water, a sweetener, and a flavouring agent. It may also contain caffeine, coloring, preservatives, and other ingredients. Soft drinks are the beverage of choice for millions of people, second only to water. The first marketed soft drinks in the Western world appeared in the 17th century, which were made of water and lemon juice sweetened with honey. There are no nutritionally beneficial components in soft drinks. Soft drinks mostly consist of filtered water and refined sugar. Bisleri International (Bisleri) re-entered the Indian soft drink market in February 2016 with the introduction of "Bisleri Pop." Bisleri, on the other hand, will face a number of hurdles in the coming days. To begin with, two multinational corporations (MNCs), Coca-Cola and PepsiCo, dominated the price and flavour pyramid in India's soft-drinks market. The case study of BISLERI POP, an Indian carbonated soft drink firm, focuses on some of the main problems, such as the company's competitive position, the strengths and weaknesses of its marketing strategies, consumer awareness, customer perception, cultural differences, and so on. This study was conducted using a descriptive research design. Google and other web sources were used to get primary data. In order to do a comparison analysis, information from Bisleri Pvt. Ltd. and other websites is used. Even though Bisleri Pop is one of the most well-known and respected bottled water brands in India, most people were not impressed by it.
Downloads
Download data is not yet available.
References
Arora, S. (2017). Decoding the Brand Genericide Conundrum: From Top of Mind to Bottom of Market. Available at SSRN 3007228.
Bisleri. (n.d.). Promise of goodness in every drop of Bisleri. https://www.bisleri.com/
BusinessLine. (13th June 2013). No regrets selling Thums Up, says Bisleri chief Ramesh Chauhan. https://www.thehindubusinessline.com/companies/no-regrets-selling-thums-up-says-bisleri-chief-ramesh-chauhan/article23106362.ece
Chatterjee, P. (20th February 2018). Bisleri Pop: Chauhan wants new drink in a new bottle. BusinessLine. https://www.thehindubusinessline.com/companies/bisleri-exits-carbonated-beverages-category/article22808393.ece
Jain, B., Singh, A. K., & Susan, M. A. B. H. (2019). The world around bottled water. Bottled and Packaged Water, 39-61.
Nielsen IQ. (19th October 2016). What's buibbling up in India's soft drink market. https://nielseniq.com/global/en/insights/report/2016/whats-bubbling-up-in-indias-soft-drink-market/
PTI. (21st March 2018). Bisleri launches 'Bisleri Pop', re-enters soft drinks business. DNA. https://www.dnaindia.com/business/report-bisleri-launches-bisleri-pop-re-enters-soft-drinks-business-2182785
Rahman, K. M. (2016). Strategic Planning and Marketing Models. In Strategic Marketing Management in Asia. Emerald Group Publishing Limited.
Statista. (2022). Soft Drinks. https://www.statista.com/outlook/cmo/non-alcoholic-drinks/soft-drinks/india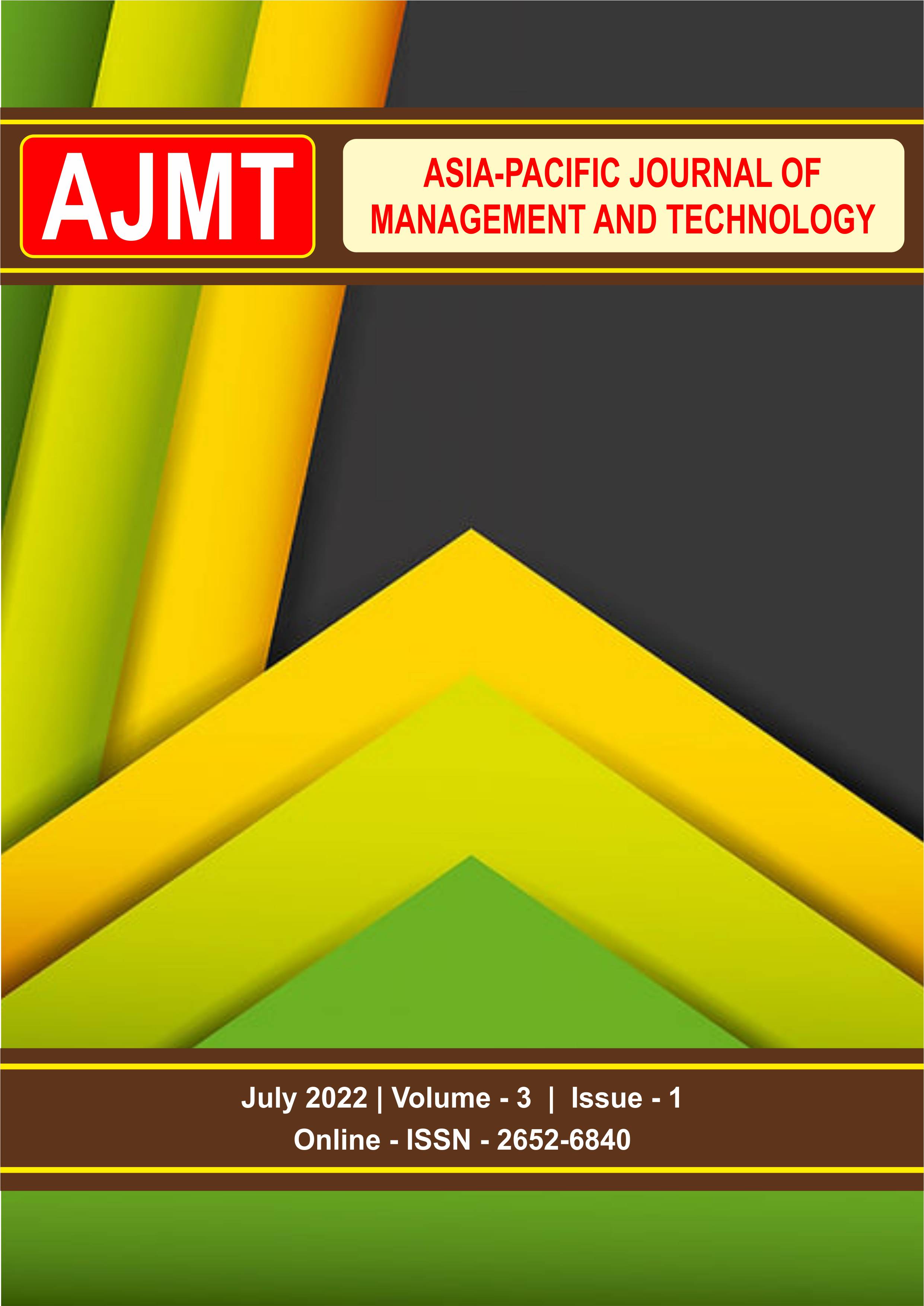 How to Cite
Rao, A. ., & Guha, S. . (2022). Flavored Carbonated Beverages: A Case Study on Bisleri Pop. Asia-Pacific Journal of Management and Technology (AJMT), 3(1), 38-46. https://doi.org/10.46977/apjmt.2022v03i01.005
Copyright (c) 2022 Asia-Pacific Journal of Management and Technology (AJMT)
This work is licensed under a Creative Commons Attribution-NonCommercial 4.0 International License.