Impact of Owners' Involvement in the Success of Indian Infrastructural Projects
Keywords:
Infra Structure Projects, India, Project Success, Time Over Run, Cost Overrun, Project Owner, Project Sponsor, Owners' Involvement
Abstract
Press reports are repeatedly stating that most of the Infrastructure Projects of India are running behind schedules, and obviously with cost over rums. Such time and cost overruns not only impact the expectation of the stakeholders adversely but shall hamper the development prospects of the country significantly. Often the Project management is blamed for their failures in meeting the project objectives. But the base organizations that champion the projects, who conceive them, arrange financial support and then handover to the project management professionals for getting them carried out are not active players in the project execution sphere. The base organizations which champion the projects and are of a permanent nature are defined as Project Owners by literature, while the Project management organizations are of temporary nature. Such owners are not aware of the roles and responsibilities that they should fulfil to ensure project success. The negative impact on time and cost overrun that could be achieved by the increased involvement and interventions by Owners is not well established even.This paper aimed to find out the key areas that call for the involvement of owners in various infra structural projects, and to assess how far the owners get involved in the management of public projects at present, in selected Project sites within India, by conducting a Questionnaire survey. Help from previous published works helped in designing the instrumentation for the survey. It was intended to find out the opportunities for improvement from the survey results. The results exposed a very strong negative correlation between the Owner's contributions/ level of involvement with Time over run and Cost overrun. This revealed a significant opportunity for improvement in the success prospects of Indian Infra Projects.
Downloads
Download data is not yet available.
References
Bubshait, A. A. (1994). Owner involvement in project quality. International Journal of Project Management, 12(2), 115-117.
Dalcher, D. (2016). The unspoken role of sponsors, champions, shapers and influencers. PM World Journal, 5(9).
Fowler Jr., F. J., & Fowler, F. J. (1995). Improving survey questions: Design and evaluation. Sage.
Hankinson, A., Bartlett, D., & Ducheneaut, B. (1997). The key factors in the small profiles of small‐medium enterprise owner‐managers that influence business performance: The UK (Rennes) SME survey 1995‐1997 An international research project UK survey. International Journal of Entrepreneurial Behavior & Research.
Jiang, J. J., Klein, G., & Chen, H. G. (2001). The relative influence of IS project implementation policies and project leadership on eventual outcomes. Project Management Journal, 32(3), 49-55.
Lechler, T. (1998). When it comes to project management, it's the people that matter: an empirical analysis of project management in Germany. IRNOP III. The nature and role of projects in the next, 20, 205-15.
Lloyd‐Reason, L., & Mughan, T. (2002). Strategies for internationalisation within SMEs: the key role of the owner‐manager. Journal of Small Business and Enterprise Development. https://doi.org/10.1108/14626000210427375
Morris, P. W. (1998). Why project management doesn't always make business sense. Project Management, 4(1), 12-16.
Neap, H. S., & Aysal, S. (2004). Owner's factor in value-based project management in construction. Journal of Business Ethics, 50(1), 97-103. https://doi.org/10.1023/B:BUSI.0000020874.06666.a2
Press Trust of India (PTI). (2021, August 1). 479 infrastructure projects show cost overruns worth Rs 4.4 trillion. Business Standard. https://www.business-standard.com/article/economy-policy/479-infrastructure-projects-show-cost-overruns-worth-rs-4-4-trillion-121080100174_1.html
Salama, S., Isaac, O., Habtoor, N., & Ameen, A. (2020). Impact of Availability of Knowledge Management Infrastructure on Improving the Performance of the Education Sector Staff in Libya: Organizational Loyalty as a Mediating Variable. International Journal of Management and Human Science (IJMHS), 4(1), 1-10.
Sen, S., & Nihalani, J. (2021, August 21). Data | Nearly one-third of the central sector infrastructure projects were running behind schedule at the end of the first quarter of FY22. The Hindu. https://www.thehindu.com/data/data-nearly-one-third-of-the-central-sector-infrastructure-projects-were-running-behind-schedule-at-the-end-of-the-first-quarter-of-fy22/article36154634.ece
Shenhar, A., & Stefanovic, J. (2006, July). Operational excellence won't do it–toward a new project management maturity model. In PMI Research Conference (pp. 16-19).
Tourangeau, R. (2000). Remembering what happened: Memory errors and survey reports. The science of self-report. Implications for research and practice (pp. 29-48).
Wolfe, A. (2002). Questionnaire design. In R. J. Birn (Ed.), A Handbook of Market Research Techniques. Kogan Page Publishers.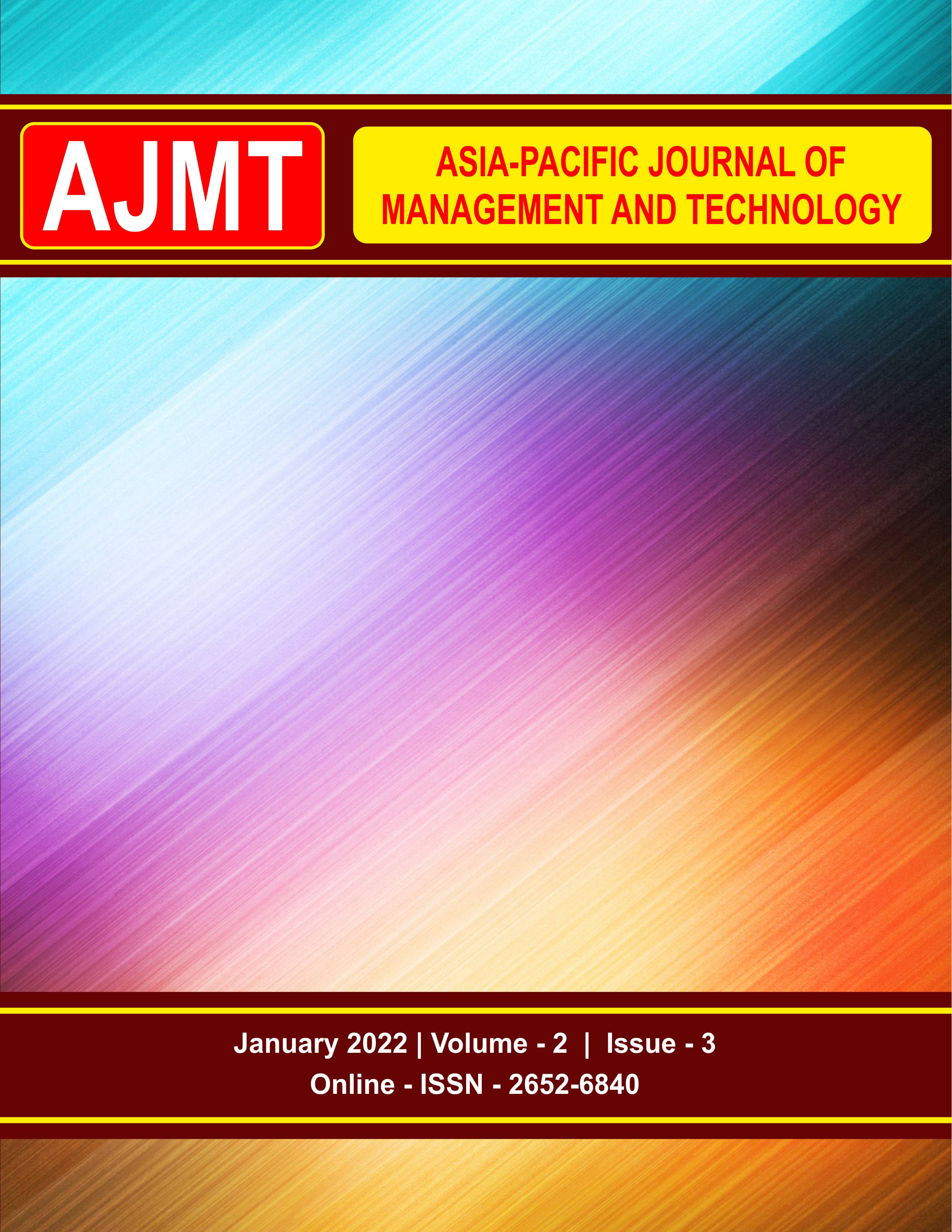 How to Cite
Purushothaman, S. G. ., Saha, T. R. ., & Bhaumik, A. . (2022). Impact of Owners' Involvement in the Success of Indian Infrastructural Projects. Asia-Pacific Journal of Management and Technology (AJMT), 2(3), 9-16. https://doi.org/10.46977/apjmt.2022v02i03.002
Copyright (c) 2022 Asia-Pacific Journal of Management and Technology (AJMT)
This work is licensed under a Creative Commons Attribution-NonCommercial 4.0 International License.