Social-Media Influence on the Investment Decisions Among the Young Adults in India
Keywords:
Social Media, Investment Options, Investment Decisions, Young Adults
Abstract
The digital media influences our selection of brand-new clothes, gadgets, entertainment and even influence our investment options available and other financial tactics. Digitalization has made us depend and sometimes re-check our own decisions over the internet-based sites to confirm our actions as right or wrong. This dependency has its own Pros and Cons. Social-media includes various platforms such as – YouTube, Instagram, Facebook, Twitter, LinkedIn, Inshorts and many other digitalised news and reviewing sharing platforms. All these platforms apart from being the medium of communication between people, they as well provide content that can be purely informative, and Entertainment based
With this article we are focusing on the particular informative content available on social-media networking sites that influences one's financial investment options. The content creators on YouTube, Instagram or Facebook teach about different investment options available to people which they might have not been aware about. Many creators market about a particular investment option and try influencing people with their tactics. The Instagram memes or what we call as posts regarding a particular stock market or cryptocurrencies creates awareness and slightly influences people in venturing the available investment options.
Stating an example, Elon Musk's Tweet about his support towards cryptocurrency-Dogecoin, had overnight raised the investment in cryptocurrency by 8%. This is the influence of the one Tweet made by Elon Musk. There are many such instances where people follow their ideal financial guidance Creator or teacher on social media to take their financial actions.
Considering the behavioural actions of the young adults and the impactful nature of the social media platforms, this article calls to analyse and understand the "Social media influence on the investment options among the young adults in India."
Downloads
Download data is not yet available.
References
Abu-taleb, S. K., & Nilsson, F. (2021). Impact of social media on investment decision. Umea Universitet:http://umu.diva-portal.org/smash/get/diva2:1566008/FULLTEXT01. pdf
Greenwich Associates (2018). Social Media Influencing Investment Decisions at Global Institutions. Coalition Greenwich: https://www. greenwich.com/press-release/social-media- influencing-investment-decisions-global-institutions
Ismail, S., Nair, R. K., Sham, R., & Wahab, S. N. (2018). Impacts of Online Social Media on Investment Decision in Malaysia. Indian Journal of Public Health Research & Development, 9(11).
Kumari, S. (2017). Impact of social media on biases of individual investor's decision making. DPU: https://gbsrc.dpu.edu.in/downloads/current-issues/ Sharda-Kumari-Paper-6.PDF
Mudholkar, G. P., & Uttarwar, V. R. (2015). The impact of social networking sites on investment decisions. Retrived from http://www. nevillewadia. com/images/Cronicle2015/Dr.-GajananMudholkar15. pdf.
Rudin, A. (2019). Understanding how social media affects investor biases. Investment and Wealth Monitor: https://cdn2.hubspot.net/hubfs/4812204/IWM19Sep Oct-SocialMediaAffectsInvestorBiases.pdf
Tham, E. (2018). Social media impact on household investors and their stock markets participation. Saatavana: https://www. thinkforwardinitiative. com/research/social-media- impact-on-household-investors-and-their-stock- marketsparticipation.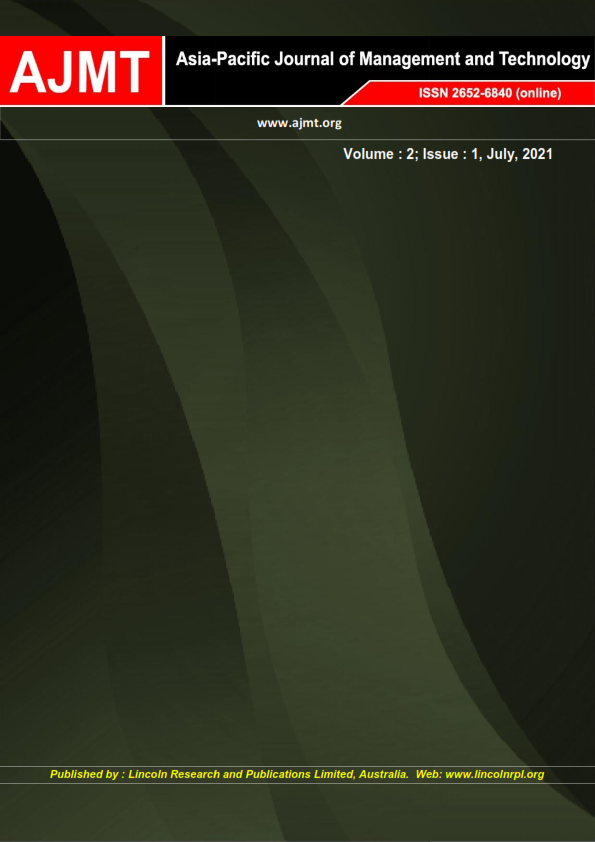 How to Cite
Subramanian, Y. . R., & Prerana.M. (2021). Social-Media Influence on the Investment Decisions Among the Young Adults in India. Asia-Pacific Journal of Management and Technology (AJMT), 2(1), 17-26. https://doi.org/10.46977/apjmt.2021v02i01.003
Copyright (c) 2021 Asia-Pacific Journal of Management and Technology (AJMT)
This work is licensed under a Creative Commons Attribution-NonCommercial 4.0 International License.