Finding Out the Influence of Marketing Mix on Attitude of Customers for Providing Online Reviews
Keywords:
4P's of Marketing, Customers Attitude, Online Reviews
Abstract
Unlike traditional market this modern competitive market includes a very important thing that motivates customers which is online reviews provided by existing customers. By keeping this situation in mind this study was focused on filling a very important research gap that is whether there is any influence of 4P's (Product, Price, Place and Promotion) of marketing mix influences customers the most for providing online reviews or not. For this purpose, Empirical research with descriptive cross-sectional research design was used and for the purpose of data collection convenience sampling method was utilized and data collected from 198 respondents. Before collecting the data, a pilot study with 44 respondents was used for analysing the reliability of data collection instrument. After finding the Cronbach's alpha value 0.933, measurement model was utilized for checking the fit of proposed model and the model was validated based on several fit indices such as CMIN/df, GFI, CFI, SRMR and RMSEA as the values of each of them that is 2.080, .910, 0.943, 0.050, 0.076 are less than the cut-off values that. in the end structural path model was used for seeing the direction of the constructs and also for testing hypotheses. The results based on completely statistics showing a very interesting direction and a conclusion that shows 4P's of marketing mix has no significant influence upon attitude customers for providing online reviews.
Downloads
Download data is not yet available.
References
Al Muala, A., & Al Qurneh, M. (2012). Assessing the relationship between marketing mix and loyalty through tourists satisfaction in Jordan curative tourism. American Academic & Scholarly Research Journal, 4(2), 1.
Alfina, I., Ero, J., Hidayanto, A. N., & Shihab, M. R. (2014). The impact of cognitive trust and e-wom on purchase intention in C2C e-commerce site. Journal of Computer Science, 10(12), 2518.
Bataineh, A. Q. (2015). The impact of perceived e-WOM on purchase intention: The mediating role of corporate image. International Journal of Marketing Studies, 7(1), 126.
Byrne, B. M. (2001). Structural equation modeling with AMOS: Basic concepts. Applications, and Programming, Mahwah, New Jersey.
Chung, K. H., & Shin, J. I. (2008). The relationship among e-retailing attributes, e-satisfaction and e-loyalty. Management Review: An International Journal, 3(1), 23-45.
Duarte, P., e Silva, S. C., & Ferreira, M. B. (2018). How convenient is it? Delivering online shopping convenience to enhance customer satisfaction and encourage e-WOM. Journal of Retailing and Consumer Services, 44, 161-169.
Filieri, R. (2015). What makes online reviews helpful? A diagnosticity-adoption framework to explain informational and normative influences in e-WOM. Journal of Business Research, 68(6), 1261-1270.
Fornell, C., & Larcker, D. F. (1981). Evaluating structural equation models with unobservable variables and measurement error. Journal of marketing research, 18(1), 39-50.
Goi, C. L. (2011). Perception of consumer on marketing mix: Male vs. female. In 2010 International Conference on Business and Economics Research (Vol. 1).
Guping, C., Cherian, J., Sial, M. S., Mentel, G., Wan, P., Álvarez-Otero, S., & Saleem, U. (2021). The relationship between csr communication on social media, purchase intention, and e-wom in the banking sector of an emerging economy. Journal of Theoretical and Applied Electronic Commerce Research, 16(4), 1025-1041.
Hair Jr, J., Black, W., Babin, B., & Anderson, R. (2010). Multivariate data analysis a global perspective. Pearson Education Inc. USR, New Jersey, 7458.
Janse, B, & Van Vliet, V. (2020). Marketing mix 4P 's (McCarthy). https://www.toolshero.com//marketing/marketing-mix-4p-mccarthy/
Nakhleh, K. (2012). Globalized Palestine: The national sell-out of a homeland. Red Sea Press.
Pérez, M. L., & Piñero, M. S. (2012). The Impact of e-WOM: determinants of Influence. In Advances in Advertising Research (pp. 217-232).
Purnasari, H., & Yuliando, H. (2015). How relationship quality on customer commitment influences positive e-WOM. Agriculture and Agricultural Science Procedia, 3, 149-153.
Riaz, W., & Tanveer, A. (2012). Marketing mix, not branding. Asian Journal of Business and Management Sciences, 1(11), 43-52.
Steffes, E. M., & Burgee, L. E. (2009). Social ties and online word of mouth. Internet Research.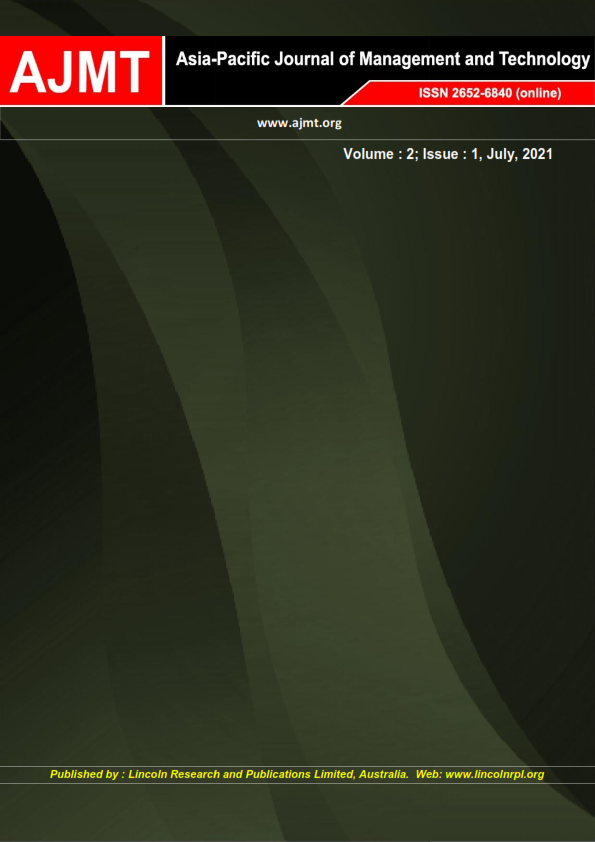 How to Cite
Priyo Das, & Dhar, P. (2021). Finding Out the Influence of Marketing Mix on Attitude of Customers for Providing Online Reviews. Asia-Pacific Journal of Management and Technology (AJMT), 2(1), 27-37. https://doi.org/10.46977/apjmt.2021v02i01.004
Copyright (c) 2021 Asia-Pacific Journal of Management and Technology (AJMT)
This work is licensed under a Creative Commons Attribution-NonCommercial 4.0 International License.