Impact of Training on Organisational Productivity
Abstract
This study was aimed to achieve the general objective of assessing the impact of internal/employer-provided training on employee and organizational outcomes. More specifically, the study covered the impact of training on employees, the impact of training on rate of employee turnover in companies (including a comparative analysis of the costs involved in the processes of training and hiring and firing employees), and the impact of training on the general firing trends of companies. The research adopted the quantitative research method which relied on data and information collected through two questionnaires which were distributed to 200 respondents. The responses were purposively sampled and analysed to make conclusions based on a deductive research approach. The study established a strong positive relationship between internal training and positive outcomes for both employees and companies.
Downloads
Download data is not yet available.
References
Brum, S. (2007). What impact does training have on employee commitment and Employee turnover?
Choi, Y., & Dickson, D. R. (2009). A case study into the benefits of management training programs: Impacts on hotel employee turnover and satisfaction level. Journal of Human Resources in Hospitality & Tourism, 9(1), 103-116.
Huselid, M. A. (1995). The impact of human resource management practices on turnover, productivity, and corporate financial performance. Academy of management journal, 38(3), 635-672.
Jehanzeb, K., & Bashir, N. A. (2013). Training and development program and its benefits to employee and organization: A conceptual study. European Journal of business and management, 5(2).
Jerry S., (2019, March 9), Effects of Training on Employee Performance. Small Business - Chron.com. Retrieved from http://smallbusiness.chron.com/effects-training-employee-performance-39737.html
Meier K.S., (2018, August 08). Purpose of Internal Training for Employees. Work - Chron.com. Retrieved from http://work.chron.com/purpose-internal-training-employees-3973.html
Nassazi, A. (2013). Effects of Training on Employee Performance.: Evidence from Uganda.
Nda, M. M., & Fard, R. Y. (2013). The impact of employee training and development on employee productivity. Global journal of commerce and management perspective, 2(6), 91-93.
Pfeifer, C., Janssen, S., Yang, P., & Backes-Gellner, U. (2011). Effects of training on employee suggestions and promotions in an internal labor market.
Simon, M. K., & Goes, J. (2013). Scope, limitations, and delimitations.
Singh, R., & Mohanty, M. (2012). Impact of training practices on employee productivity: A comparative study. Interscience Management Review (IMR), 2(2), 74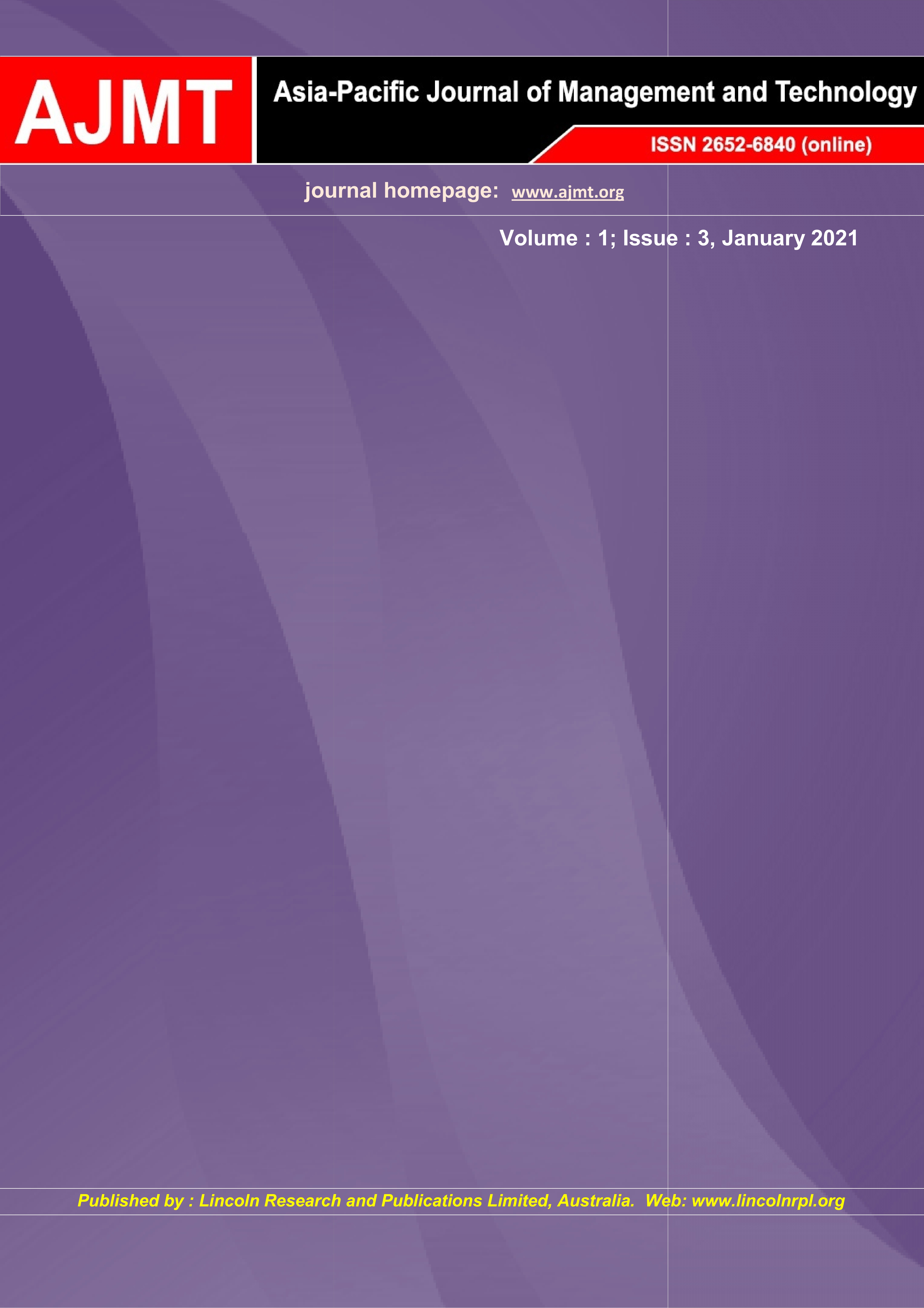 How to Cite
Goswami, S., & Saha, R. C. (2021). Impact of Training on Organisational Productivity. Asia-Pacific Journal of Management and Technology (AJMT), 1(3), 22-28. https://doi.org/10.46977/apjmt.2021v01i03.004
This work is licensed under a Creative Commons Attribution-NonCommercial 4.0 International License.