Impact of Covid-19 Pandemic on Dow Jones Index
Keywords:
Granger Causality Test, Cointegration;Pandemic, COVID 19 Impact
Abstract
Covid-19 pandemic emerged as a Black Swan event that has shaken the global economy. In the present study the researchers have tried to determine the Impact of Covid-19 pandemic on the US Stock markets using data of Covid-19 confirmed cases and closing price of Dow Jones Index over the period January 21,2020 to May 31,2020. To determine the relationship between covid-19 and US stock market Granger-Casualty test and Johnsen Co-integration test. The Study findings revealed that there is a short-term relationship between this two which means the Covid-19 pandemic has positive impact on price of stock market in a short run.
Downloads
Download data is not yet available.
References
Baret, S., Celner, A., O'Reilly, M., & Shilling, M. (2020). COVID-19 potential implications for the banking and capital markets sector. Maintaining Business and Operational Resilience. Deloitte Insights.
Liu, H., Manzoor, A., Wang, C., Zhang, L., & Manzoor, Z. (2020). The COVID-19 outbreak and affected countries stock markets response. International Journal of Environmental Research and Public Health, 17(8), 2800.
Ramelli, S., & Wagner, A. (2020). What the stock market tells us about the consequences of COVID-19. Mitigating the COVID Economic Crisis: Act Fast and Do Whatever, 63.
Sansa, N. A. (2020). The Impact of the COVID-19 on the Financial Markets: Evidence from China and USA. Electronic Research Journal of Social Sciences and Humanities, 2.
Siu, A., & Wong, Y. R. (2004). Economic impact of SARS: the case of Hong Kong. Asian Economic Papers, 3(1), 62-83.
Wang, Y. H., Yang, F. J., & Chen, L. J. (2013). An investor's perspective on infectious diseases and their influence on market behavior. Journal of Business Economics and Management, 14(sup1), S112-S127.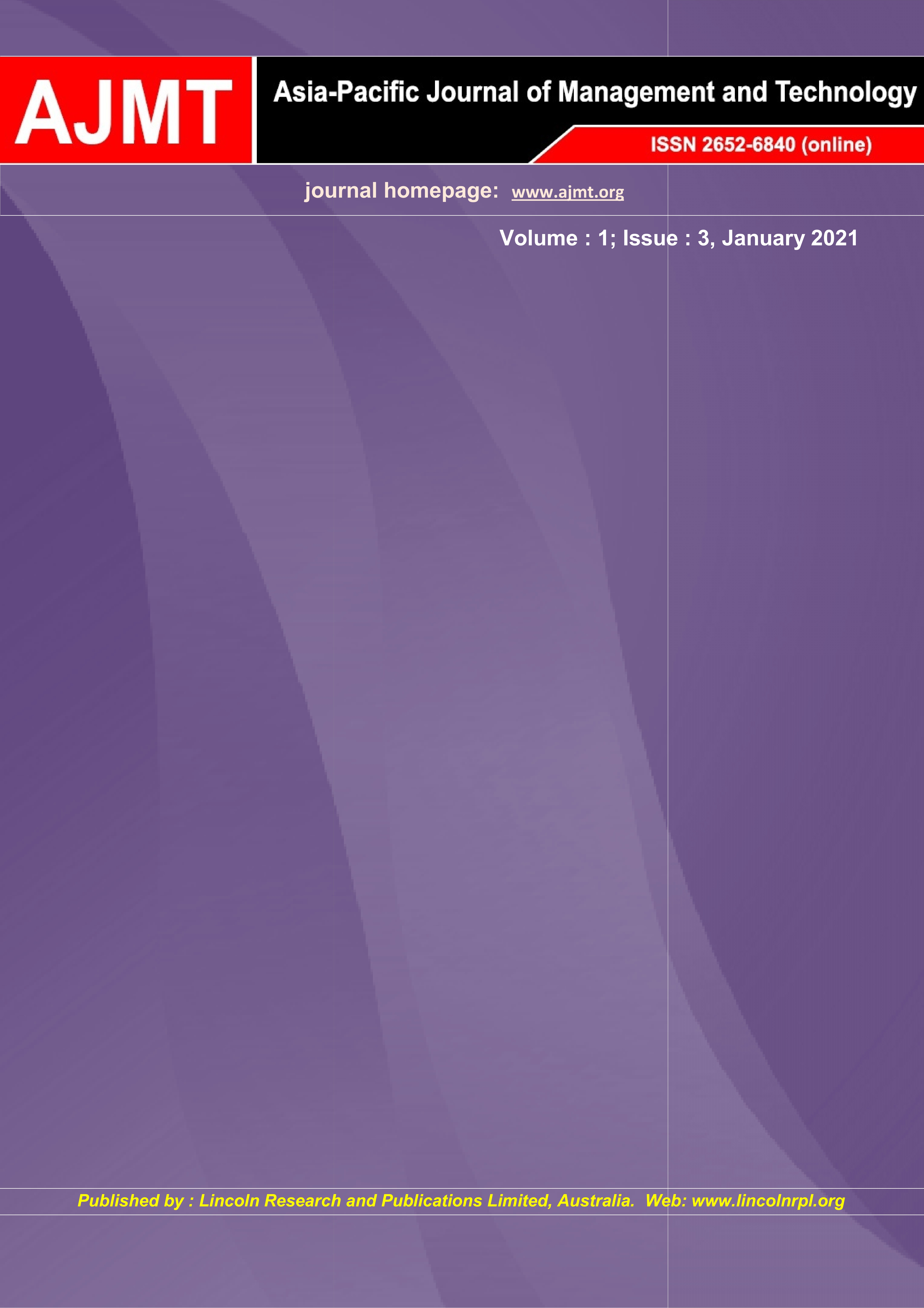 How to Cite
Dhaval Maheta, & Jaini Shah. (2021). Impact of Covid-19 Pandemic on Dow Jones Index. Asia-Pacific Journal of Management and Technology (AJMT), 1(3), 18-21. https://doi.org/10.46977/apjmt.2021v01i03.003
This work is licensed under a Creative Commons Attribution-NonCommercial 4.0 International License.