Effect of COVID-19 on Indian Stock Market
COVID-19 and Indian Stock Market
Keywords:
Proxy; Time Series; Sentiments; Vital.
Abstract
Coronavirus disease popularly known as COVID-19 is a newly introduced disease caused by a virus which is named after the family of Corona viruses. Most common symptom to which is mild to moderate respiratory problems. The effect can be seen all around us. Even stock markets across the world have been affected by it. This study attempts to measure the effect of COVID-19 on the Indian stock market. time series analysis is adopted to understand the effect of COVID-19 on Indian stock market using confirmed recovered and deceased cases of COVID-19, as proxy of COVID-19. This study uses secondary data for time series from 30/01/2020 to 24/04/2020. Finding of the study shows a relationship between COVID-19 confirmed, recovered, and deceased cases and the fluctuations of Indian stock market. The study so conducted has showed, that the sentiments of investors plays a vital role in fall and rise of trading indices and hence the return from the market.
Downloads
Download data is not yet available.
References
Al-Awadhi, A.M., Al-Saifi, K., Al-Awadhi, A. & Alhamadi, S. (2020). Death and Contagious Infectious Diseases: Impact of the COVID-19 Virus on Stock Market Returns. Journal of Behavioral and Experimental Finance, 27, pages 6.
Bai, Y. (2014). Cross-Border Sentiment: An Empirical Analysis on EU Stock Markets. Applied Financial Economics, 24(4), pp 259-290.
Baker, S.R., Bloom, N., Davis, S.J., Kost, K.J., Sammon, M.C. & Viratyosin, T. (2020). The Unprecedented Stock Market Impact of COVID-19, NBER Working Papers 26945, National Bureau of Economic Research, Inc.
Chen, M.H., Jang, S.S. & Kim, W.G. (2007). The Impact of the SARS Outbreak on Taiwanese Hotel Stock Performance: An Event-Study Approach. International Journal of Hospitality Management, 26(1), pp 200-212.
Fiuzat, M., Shaw, L.K., Thomas, L., Felker, G.M., & O'Connor, C.M. (2010). United States Stock Market Performance and Acute Myocardial Infarction Rates in 2008–2009 (from the Duke Databank for Cardiovascular Disease). The American Journal of Cardiology, 106(11), pp 1545-1549.
Ichev, R. & Marinč, M. (2016). Geographic Proximity of Information to Financial Markets and Impact on Stock Prices: Evidence from the Ebola Outbreak. UBT International Conference, 28th October. Retrieved From: https://core.ac.uk/download/pdf/268078813.pdf
Kaplanski, G., Levy, H., Veld, C. & Veld-Merkoulova, Y. (2015). Do Happy People Make Optimistic Investors? Journal of Financial and Quantitative Analysis, 50(1-2), pp 145-168.
Karlsson, M., Nilsson, T. & Pichler, S. (2014). The Impact of the 1918 Spanish Flu Epidemic on Economic Performance in Sweden: An Investigation into the Consequences of an Extraordinary Mortality Shock. Journal of Health Economics, 36(April), pp 1-19.
Macciocchi, D., Lanini, S., Vairo, F. Zumla, A. (2016). Short-term economic impact of the Zika virus outbreak. The New Microbiologica: official journal of the Italian Society for Medical Virology (SIVIM), 39(4), pp 287-289.
Nippani, S. & Washer, K.M. (2004). SARS: A non-event for affected countries' stock markets? Applied Financial Economics, 14(15), pp 1105-1110.
Shu, H.C. & Chang, J.H. (2015). Investor Sentiment and Financial Market Volatility. Journal of Behavioral Finance, 16(3), pp 206-219.
Siu A, & Wong R. (2003). Ravaged by SARS: The Case of Hong Kong SARS. Paper presented at Asian Economic Panel, Keio University, Tokyo.
Tetlock, P.C. (2007). Giving Content to Investor Sentiment: The Role of Media in the Stock Market. The Journal of Finance, 62(3), pp 1139-1168.
Wang, Y.H., Yang, F.J., & Chen, L.J. (2013). An Investor's Perspective on Infectious Diseases and Their Influence on Market Behavior. Journal of Business Economics and Management, 14(sup1), pp S112-S127.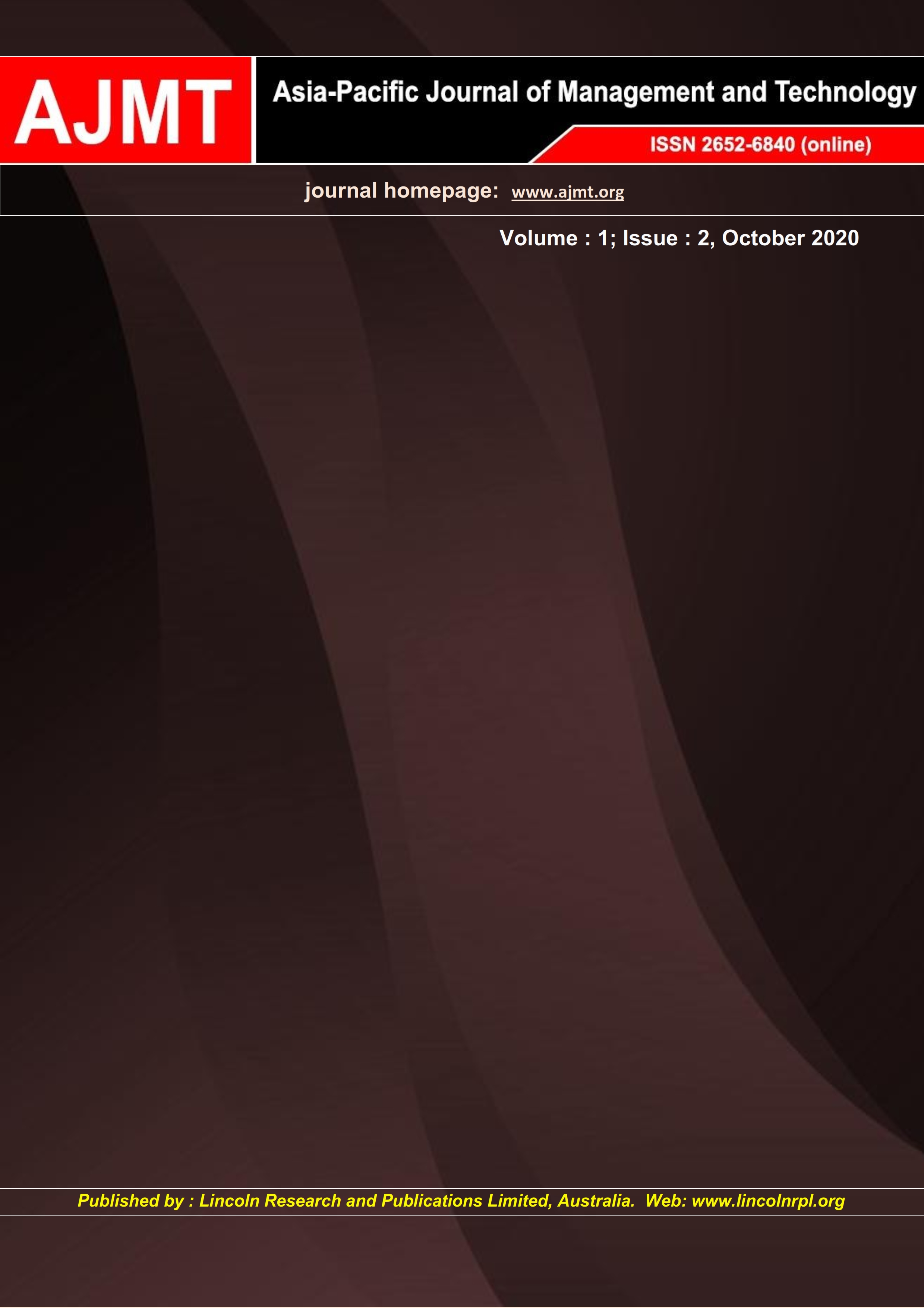 How to Cite
Singh, A., Kumar, R., Shukla, R., & Batumalai, M. (2020). Effect of COVID-19 on Indian Stock Market: COVID-19 and Indian Stock Market. Asia-Pacific Journal of Management and Technology (AJMT), 1(2), 30-36. https://doi.org/10.46977/apjmt.2020v01i02.005
Copyright (c) 2020 Asia-Pacific Journal of Management and Technology
This work is licensed under a Creative Commons Attribution-NonCommercial 4.0 International License.