A Study of the Branding's Impact on Consumers in the Real Estate Market
Keywords:
Branding, Consequence, Real Estate Industry, Luxury Estates, Consumers, Judgment Providers, Core Business Strategies
Abstract
Branding has evolved into an essential component of promotion. As little more than a consequence, the rate of adoption and application, particularly in the real estate sector, has increased substantially in recent years. Branding adds a new dimension to the development and regeneration of districts, communities, and luxury estates. A survey interview is implemented for data collection, taking into consideration the study's goals and objectives as well as the fact that all of the respondents were educated. The questionnaire comprised open-ended, confined, and numerous questions, several alternatives, etc. According to the report, customers have become major judgment providers, weighing in on various aspects such as the user's brand, the developer's brand, the property's price, the property's condition, the condition of the real estate, and the property's prospects. The dealer's income level influences his or her purchase intention. The real estate industry, as with any other, offers items and services to its customers. Despite the fact that there are differences in how the companies in this sector conduct their day-to-day business operations, the core business strategies, particularly those relating to marketing, are invariably comparable to those found in plenty of other sectors.
Downloads
Download data is not yet available.
References
Alzoubi, H., Alshurideh, M., Kurdi, B., Alhyasat, K., & Ghazal, T. (2022). The effect of e-payment and online shopping on sales growth: Evidence from banking industry. International Journal of Data and Network Science, 6(4), 1369-1380. http://dx.doi.org/10.5267/j.ijdns.2022.5.014
Bergman, B. J., & McMullen, J. S. (2022). Helping entrepreneurs help themselves: A review and relational research agenda on entrepreneurial support organizations. Entrepreneurship Theory and Practice, 46(3), 688-728. https://doi.org/10.1177/10422587211028736
Campbell, H. M., Dieckman, C. S., Teal, W., & Wintermute, H. E. (2022). Improving Subject Headings for Iowa Indigenous Peoples. Library Resources & Technical Services, 66(1), 48. https://doi.org/10.5860/lrts.66n1.48
Chadha, U., Abrol, A., Vora, N. P., Tiwari, A., Shanker, S. K., & Selvaraj, S. K. (2022). Performance evaluation of 3D printing technologies: a review, recent advances, current challenges, and future directions. Progress in Additive Manufacturing, 7(5), 853-886. https://doi.org/10.1108/JMTM-01-2016-0002
Hayes, J. L., Holiday, S., & Park, H. (2022). Corporate social responsibility & the advertising strategic planning process: a literature review & research agenda. International Journal of Advertising, 41(2), 210-232. https://doi.org/10.1080/02650487.2022.2038432
Himki, A., Ramadhan, T., Durachman, Y., & Pramono, E. S. (2022). Digital business entrepreneurship decisions: An e-business analysis (a study literature review). Startupreneur Bisnis Digital (SABDA Journal), 1(1), 107-113. https://doi.org/10.4236/ajibm.2022.125056
Istikomah, I., Saputra, G. W., & Yusuf, M. (2022). Marketing Mix Strategy and Financial Capabilities in Improving Sharia Stock Investment. Journal of Applied Management and Business Administration, 1(1), 21-27. https://doi.org/10.1016/j.emj.2021.07.006
Jackson, J. (2022). New Aristocracy: Political Wealth, Neofeudal Labor, and American Law. South Atlantic Quarterly, 121(2), 321-337. https://doi.org/10.1215/00382876-9663632
Kumar, S. K. A., Ihita, G. V., Chaudhari, S., & Arumugam, P. (2022, January). A survey on rural internet connectivity in India. In 2022 14th International Conference on COMmunication Systems & NETworkS (COMSNETS) (pp. 911-916). IEEE. https://doi.org/10.1109/COMSNETS53615.2022.9668358
Pfister, S. M., Reyes-Múgica, M., Chan, J. K., Hasle, H., Lazar, A. J., Rossi, S., & Alaggio, R. (2022). A summary of the inaugural WHO classification of pediatric tumors: transitioning from the optical into the molecular era. Cancer Discovery, 12(2), 331-355. https://doi.org/10.1158/2159-8290.CD-21-1094
Ralston, P. M., Schwieterman, M. A., & Bell, J. E. (2022). Factor market rivalry: a general theory of supply chain management. In Handbook of Theories for Purchasing, Supply Chain and Management Research (pp. 345-359). Edward Elgar Publishing. https://doi.org/10.4337/9781839104503.00027
Rathie, M. (2023). 9 "Love Me, Love My Beer: National Heritage in a Bottle". Beer in East Asia: A Political Economy, 186.
Souder, D., & Badwaik, D. (2022). Designing long-term incentives that promote innovation instead of value capture. Oxford Review of Economic Policy, 38(2), 322-337. https://doi.org/10.1093/oxrep/grac008
Westenberger, J., Schuler, K., & Schlegel, D. (2022). Failure of AI projects: understanding the critical factors. Procedia computer science, 196, 69-76. https://doi.org/10.1016/j.procs.2021.11.074
Xiao, Y. Q., & Kan, C. W. (2022). Review on development and application of 3D-Printing technology in textile and fashion design. Coatings, 12(2), 267. https://doi.org/10.3390/coatings12020267
Yan, Y., Gupta, S., Licsandru, T. C., & Schoefer, K. (2022). Integrating machine learning, modularity and supply chain integration for Branding 4.0. Industrial Marketing Management, 104, 136-149. https://doi.org/10.1016/j.indmarman.2022.04.013
Zhang, L., Jiang, L., Zhang, J., Li, J., & Peng, Y. (2022). Enhancing nitrogen removal through directly integrating anammox into mainstream wastewater treatment: Advantageous, issues and future study. Bioresource Technology, 127827. https://doi.org/10.1016/j.biortech.2022.127827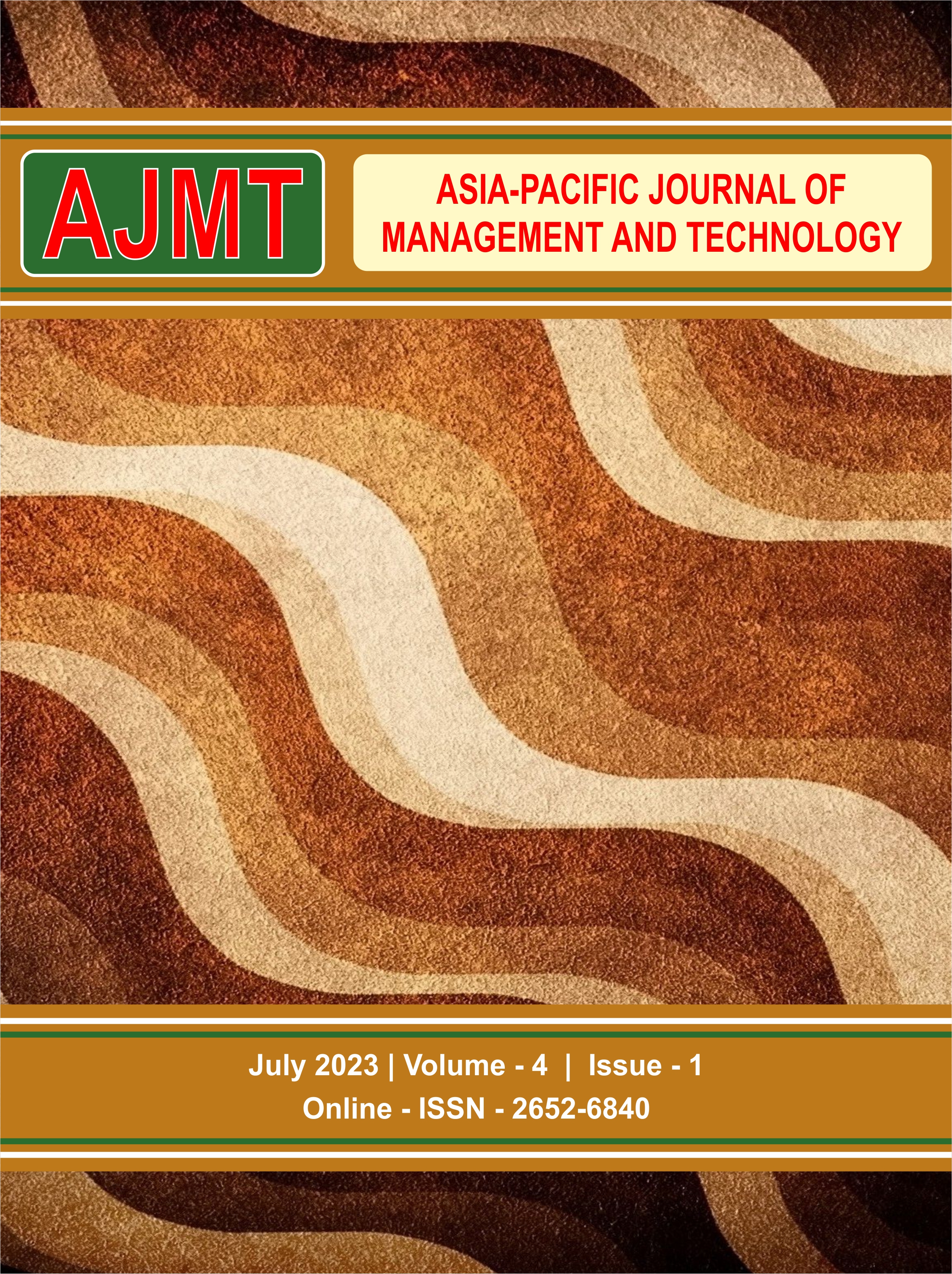 How to Cite
Ying, W. ., Xinfeng, W. ., Jianguo, C. ., & Ghosh, A. . (2023). A Study of the Branding's Impact on Consumers in the Real Estate Market. Asia-Pacific Journal of Management and Technology (AJMT), 4(1), 13-19. https://doi.org/10.46977/apjmt.2023.v04i01.003
Copyright (c) 2023 Asia-Pacific Journal of Management and Technology (AJMT)
This work is licensed under a Creative Commons Attribution-NonCommercial 4.0 International License.