Consumption of and Dependence on Multiscreen Technology and Management
Keywords:
Mobile Technologies, Technology & Management, Customer Sentiment, Dependent Behavior
Abstract
Introduction: In the past two decades, there has been a significant uptick in the amount of focus placed on studies and publications concerning addiction to the internet and other forms of technology and management. However, most of the studies in this body of research concentrate on the links between physical, educational, and social factors, and internet addiction. Literature Background: Relatively few of the studies examine the link between internet addiction and emotional factors such as anxiety. Considering the growing popularity of mobile technologies and the increased use of numerous devices, there is a pressing need to get an understanding of the ways in which dependence on many screens affects emotional factors. Methods: For providing a foundation for a more extensive study that is currently under way, two exploratory studies were carried out. Discussion: This study makes use of an exploratory technique, which consists of a focus group as well as semi-structured interviews, to investigate these links and offer a deeper comprehension of the influence that multiscreen usage has on customer sentiment and dependent behavior. Conclusion: The findings presented here also demonstrate that people's level of abstraction is altering, as evidenced by the fact that they are focusing more on the immediate future and have fewer long-term expectations.
Downloads
Download data is not yet available.
References
Alimoradi, Z., Lin, C. Y., Broström, A., Bülow, P. H., Bajalan, Z., Griffiths, M. D., ... & Pakpour, A. H. (2019). Internet addiction and sleep problems: A systematic review and meta-analysis. Sleep Medicine Reviews, 47, 51-61. https://doi.org/10.1016/j.smrv.2019.06.004
Bener, A., Yildirim, E., Torun, P., Çatan, F., Bolat, E., Alıç, S., ... & Griffiths, M. D. (2019). Internet addiction, fatigue, and sleep problems among adolescent students: A large-scale study. International Journal of Mental Health and Addiction, 17, 959-969. https://doi.org/10.1007/s11469-018-9937-1
Castellacci, F., & Tveito, V. (2018). Internet use and well-being: A survey and a theoretical framework. Research policy, 47(1), 308-325. https://doi.org/10.1016/j.respol.2017.11.007
Hadlington, L., & Scase, M. O. (2018). End-user frustrations and failures in digital technology: exploring the role of Fear of Missing Out, Internet addiction and personality. Heliyon, 4(11), e00872. https://doi.org/10.1016/j.heliyon.2018.e00872
Holienčinová, M., Košičiarová, I., Kádeková, Z., Nagyová, Ľ., & Holota, T. (2018). Consumer behaviour consequences within the online environment in context of multiscreen. Proceedings of the International Scientific Days 2018 in Nitra, 330-343. https://doi.org/10.15414/isd2018.s2-1.05
Hunsaker, A., & Hargittai, E. (2018). A review of Internet use among older adults. New media & society, 20(10), 3937-3954. https://doi.org/10.1177/1461444818787348
Khan, S. K., Ali, N., Khan, N. A., Ammara, U., & Anjum, N. (2020). Understanding multiscreening phenomenon for online shopping through perspective of self-regulation and dual process theory: Case of Chinese young generation. Electronic Commerce Research and Applications, 42, 100988. https://doi.org/10.1016/j.elerap.2020.100988
Kim, G. H. (2018). Multi-screen Patterns and Multi-device Experiences in a Multi-screen Ecosystem. In Advances in Computer Science and Ubiquitous Computing: CSA-CUTE 17 (pp. 1051-1056). Springer Singapore. https://doi.org/10.1007/978-981-10-7605-3_168
Kim, S. G., Park, J., Kim, H. T., Pan, Z., Lee, Y., & McIntyre, R. S. (2019). The relationship between smartphone addiction and symptoms of depression, anxiety, and attention-deficit/hyperactivity in South Korean adolescents. Annals of General Psychiatry, 18(1), 1-8. https://doi.org/10.1186/s12991-019-0224-8
Kirchner, E. A., Fairclough, S. H., & Kirchner, F. (2019). Embedded multimodal interfaces in robotics: applications, future trends, and societal implications. In The Handbook of Multimodal-Multisensor Interfaces: Language Processing, Software, Commercialization, and Emerging Directions-Volume 3 (pp. 523-576). https://doi.org/10.1145/3233795.3233810
Montagud, M., Boronat, F., Pastor, J., & Marfil, D. (2020). Web-based platform for a customizable and synchronized presentation of subtitles in single-and multi-screen scenarios. Multimedia Tools and Applications, 79, 21889-21923. https://doi.org/10.1007/s11042-020-08955-x
Rahi, S., Ghani, M., Alnaser, F., & Ngah, A. (2018). Investigating the role of unified theory of acceptance and use of technology (UTAUT) in internet banking adoption context. Management Science Letters, 8(3), 173-186. http://dx.doi.org/10.5267/j.msl.2018.1.001
Thomas, G., Bennie, J. A., De Cocker, K., Dwi Andriyani, F., Booker, B., & Biddle, S. J. (2022). Using wearable cameras to categorize the type and context of screen-based behaviors among adolescents: Observational study. JMIR Pediatrics and Parenting, 5(1), e28208. https://doi.org/10.2196/28208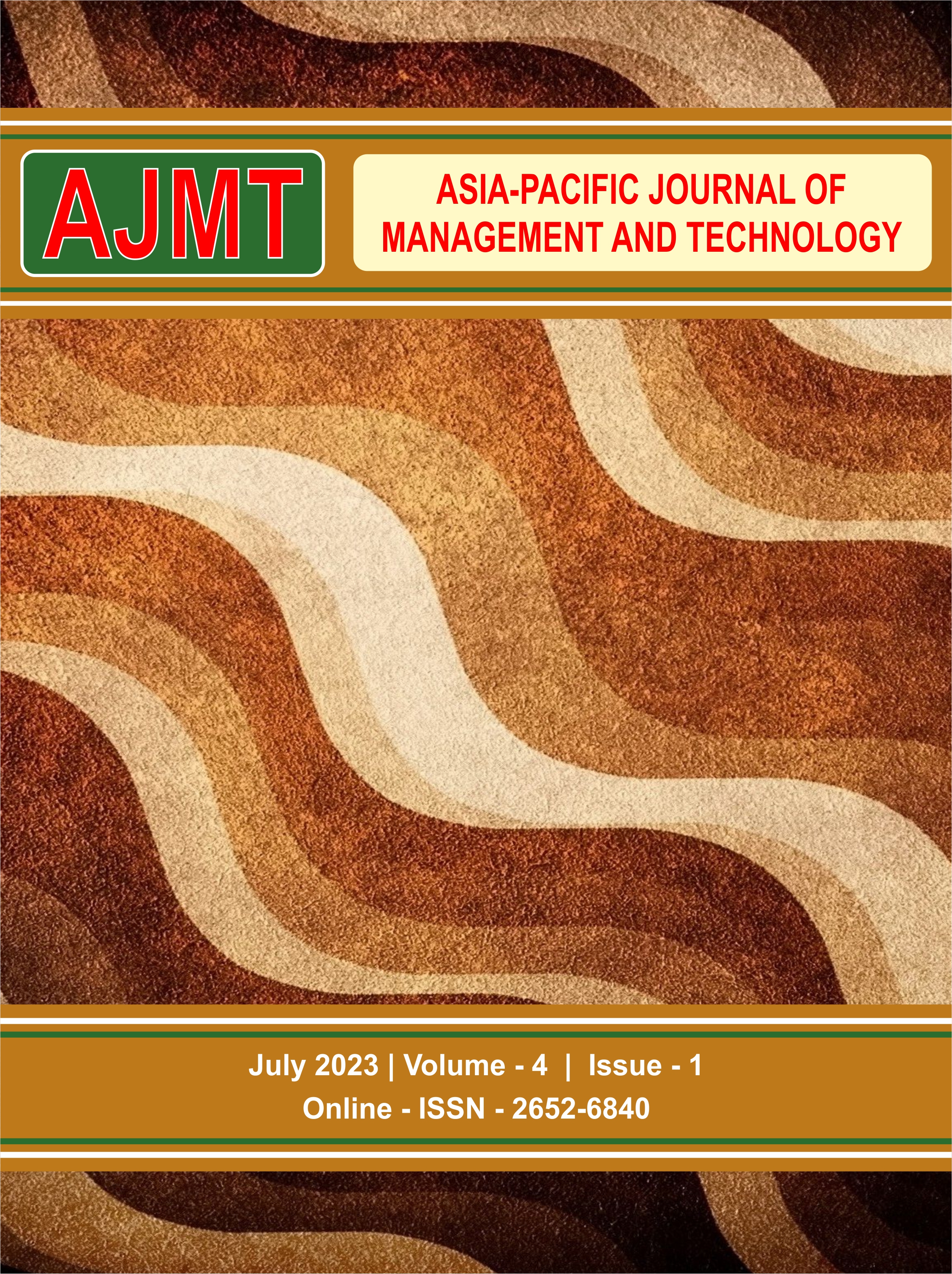 How to Cite
Can, W., Xinhong, Z. ., Shaohua, Z. ., & Majumdar, S. K. . (2023). Consumption of and Dependence on Multiscreen Technology and Management. Asia-Pacific Journal of Management and Technology (AJMT), 4(1), 42-46. https://doi.org/10.46977/apjmt.2023.v04i01.006
Copyright (c) 2023 Asia-Pacific Journal of Management and Technology (AJMT)
This work is licensed under a Creative Commons Attribution-NonCommercial 4.0 International License.