An Examination of the Impact of the New Labour Codes on Shaping a New Paradigm for the Next Generation
Keywords:
Labour Reforms, Migrant Worker, Grievances, Unorganized Sector, Social Security, Interstate Migrants, Labour Laws
Abstract
More than 200 state laws and 40 central laws create collaborating jurisdictions; thus, reforms were necessary to put them all under a unified framework for the protection of a few of the mother law codes. Disputed termination of employment is addressed in several new sections added to the code. In a first in the history of labour law, social security rights have been extended to workers in the unorganised sector, including Migrant Workers, Platform Workers, etc. The Central Government would establish a "Social Security Fund" for Unorganised workers, as stated in this code. Workers from other states have also been given access to the benefits of the Public Distribution System. In addition, we must ensure that migrant workers have access to adequate housing and financial services. A statute that secures the employment rights of women in both the city and the country. As per the cultivation of the paper, it is explored that Labour Reform desperately needed. Working hours need to be changed, and a new work culture needs to be established in light of the current climate. Additional protections need to be defined for migrant workers, and particular legislation needs to be adopted to secure the safety and security of women in the workplace.
Downloads
Download data is not yet available.
References
Adhikary, S., & Banerjee, K. (2022). Role of Indian Trade Unions in Transition of Changes: A Contemporary Study. International Journal of Management and Human Science (IJMHS), 6(2), 22-29. https://doi.org/10.31674/ijmhs.2022.v06i02.004
Bhattacharjea, A. (2006). Labour market regulation and industrial performance in India: A critical review of the empirical evidence. Indian Journal of Labour Economics, 49(2), 211-232.
Chakraborty, S., & Chatterjee, P. (2020). Stark Reality of Women's Employment in India: Insights from the Periodic Labour Force Survey.
Chigater, S. (2021). Labour Law Reforms and Women's Work in India: Assessing the New Labour Codes From a Gender Lens. Available at SSRN 3947175.
Conaghan, J. (2018). Gender and the Labour of Law. In Philosophical Foundations of Labour Law (pp. 271-286). Oxford University Press.
Ghosh, J. (2018). Gendered labor markets and capitalist accumulation. The Japanese Political Economy, 44(1-4), 25-41. https://doi.org/10.1080/2329194X.2019.1613899
Kulshrestha, S. (2019). Provisions of Labour Law to Safeguard the Interest of Female Workers to ensure Equality in India. International Journal of Recent Technology and Engineering, 8(24), 132-138.
Mazumdar, I., & Neetha, N. (2011). Gender dimensions: employment trends in India, 1993-94 to 2009-10. http://archive.nyu.edu/handle/2451/34239
Mitchell, R., Petra, M. A. H. Y., & Gahan, P. (2014). The evolution of labour law in India: an overview and commentary on regulatory objectives and development. Asian Journal of Law and Society, 1(2), 413-453.
Neetha, N. (2013). Inequalities reinforced? Social groups, gender and employment. http://www.cwds.ac.in/wp-content/uploads/2016/09/InequalitiesReinforced59.pdf
Nizami, N. (2017). Measuring the Gap between Labour Laws and Work in India's IT Industry and Policy Directions. The Indian Journal of Labour Economics, 60, 253-270.
Rajalakshmi, T. K. (2020). The new labour codes: Labour's loss. Frontline. https://frontline.thehindu.com/the-nation/labours-loss/article32749705.ece.
Richter, A., Atkinson, T., & Russell, L. (2019). Changes in Labor Force Participation Help Explain Recent Job Gains. Federal Reserve Bank of Dallas.
Sankaran, K., & Madhav, R. (2013). Legal and policy tools to meet informal workers' demands: Lessons from India. WIEGO Legal Brief. wiego. org/sites/wiego. org/files/publications/files/Sankaran-Legal-Policy-Tools-Workers-India-WIEGO-LB1. pdf (accessed 17 October 2015).
Sarkar, P., & Deakin, S. (2011). Indian labour law and its impact on unemployment, 1970-2006: A leximetric study.
Singhania, R., Goel, V., & Kumar, A. (2021), India: Labour Law Alert – August 2021, mondaq. https://www.mondaq.com/india/employee-benefits--compensation/1108594/labour-law-alert---august-2021
Sundar, K. S. (2000). Second National Commission on Labour: Not up to the Task. Economic and Political Weekly, 2607-2611. https://www.epw.in/journal/2000/30/commentary/secondnationalcommissionlabour.html
Vasanthi, N. (2011). Addressing paid domestic work: A public policy concern. Economic and Political Weekly, 85-93.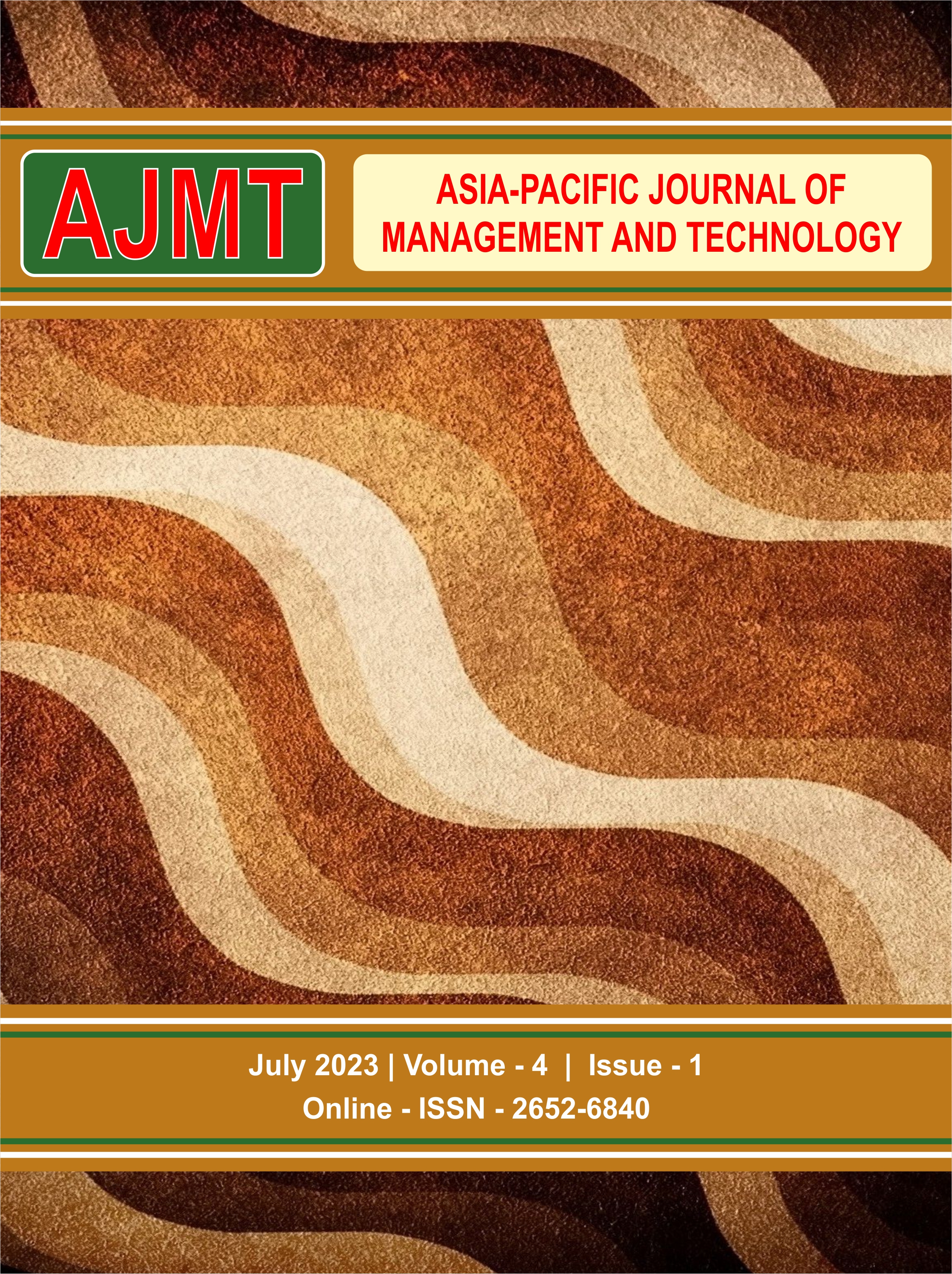 How to Cite
Paul, S. ., & Adhikary, S. (2023). An Examination of the Impact of the New Labour Codes on Shaping a New Paradigm for the Next Generation. Asia-Pacific Journal of Management and Technology (AJMT), 4(1), 7-12. https://doi.org/10.46977/apjmt.2023.v04i01.002
Copyright (c) 2023 Asia-Pacific Journal of Management and Technology (AJMT)
This work is licensed under a Creative Commons Attribution-NonCommercial 4.0 International License.