The Potential for Major Corporations to Achieve Success through Entrepreneurship, Expanding Beyond the Conventional Focus on Startups
Keywords:
Open Innovation, Management, Strategies, Unexplored, Qualitative Survey
Abstract
The strategy of the Innovation Management System encompasses inter-company procedures and activities such as networking, management, marketing, and so on. The goal of this study is to provide instances of how knowledge creation works in these settings. This article is a qualitative survey that addresses how to apply open innovation techniques in Norwegian IT companies in order to obtain access to fresh business ideas. This research strives to increase awareness of the earlier question and provide guidance for future studies through the examination and evaluation of applicable literature. This improved grasp of how to use innovation management tactics would benefit both businessmen and authorities participating in proposal appraisal. This research focuses on the adoption of strategies by small businesses and startups, both of which are relatively unexplored areas for research. It offers suggestions for reality-based thinking, social media participation, and prepared versus haphazard tactics. Based on an in-depth questionnaire with four anonymous Norwegian digital samples, this empirical research article forms a study. This study lays out a clear strategy for analyzing the openness of invention and networked theories described in the objectives.
Contrary to earlier studies, this article will expose gaps and common problems created by start-ups rather than create seamless entrepreneurial tactics for the benefit of their organization. Following the final discussions with start-ups, the findings were coupled with library evaluations and associated theories, as well as empirical facts, to support the presented query. Finally, the findings are classified and categorized in the list below based on interviewer responses.
Downloads
Download data is not yet available.
References
Aceto, G., Persico, V., & Pescapé, A. (2019). A survey on information and communication technologies for industry 4.0: State-of-the-art, taxonomies, perspectives, and challenges. IEEE Communications Surveys & Tutorials, 21(4), 3467-3501. https://doi.org/10.1109/COMST.2019.2938259
Bath, R., Bucholz, T., Buros, A. F., Singh, D., Smith, K. E., Veltri, C. A., & Grundmann, O. (2020). Self-reported health diagnoses and demographic correlates with kratom use: results from an online survey. Journal of addiction medicine, 14(3), 244. https://doi.org/10.1097%2FADM.0000000000000570
Bhatti, S. H., Santoro, G., Sarwar, A., & Pellicelli, A. C. (2021). Internal and external antecedents of open innovation adoption in IT organisations: insights from an emerging market. Journal of Knowledge Management, 25(7), 1726-1744. https://doi.org/10.1108/JKM-06-2020-0457
Chu, Y., & Yoon, W. (2021). Tech start-ups: Networking strategies for better performance. Journal of Business Strategy, 42(5), 351-357. https://doi.org/10.1108/JBS-12-2019-0234
Frishammar, J., Richtnér, A., Brattström, A., Magnusson, M., & Björk, J. (2019). Opportunities and challenges in the new innovation landscape: Implications for innovation auditing and innovation management. European Management Journal, 37(2), 151-164. https://doi.org/10.1016/j.emj.2018.05.002
Gherghina, S. C., Botezatu, M. A., Hosszu, A., & Simionescu, L. N. 2020. Small and Medium-Sized Enterprises (SMEs): The Engine of Economic Growth through Investments and Innovation. Sustainability, 12, 347. https://doi.org/10.3390/su12010347
Glinyanova, M., Bouncken, R. B., Tiberius, V., & Cuenca Ballester, A. C. (2021). Five decades of corporate entrepreneurship research: measuring and mapping the field. International Entrepreneurship and Management Journal, 1-27. https://doi.org/10.1007/s11365-020-00711-9
Herbane, B. (2019). Rethinking organizational resilience and strategic renewal in SMEs. Entrepreneurship & Regional Development, 31(5-6), 476-495. https://doi.org/10.1080/08985626.2018.1541594
Jin, R., Hou, P., Yang, G., Qi, Y., Chen, C., & Chen, Z. (2019). Cable routing optimization for offshore wind power plants via wind scenarios considering power loss cost model. Applied Energy, 254, 113719. https://doi.org/10.1016/j.apenergy.2019.113719
Kaur, J., Arora, V., & Bali, S. (2020). Influence of technological advances and change in marketing strategies using analytics in retail industry. International Journal of System Assurance Engineering and Management, 11(5), 953-961. https://doi.org/10.3390/su10072122
Kraus, S., Palmer, C., Kailer, N., Kallinger, F. L., & Spitzer, J. (2019). Digital entrepreneurship: A research agenda on new business models for the twenty-first century. International Journal of Entrepreneurial Behavior & Research, 25(2), 353-375. https://doi.org/10.1108/IJEBR-06-2018-0425
Langaro, D., Hackenberger, C., & Loureiro, S. M. C. (2019). Storymaking: An investigation on the process of co-created brand storytelling in the sporting goods industry. Storymaking: An Investigation on the Process of Co-Created Brand Storytelling in the Sporting Goods Industry, 812-818. http://dx.doi.org/10.15444/GFMC2019.08.04
Myers, J. (2020). License overview and how IP is applied in the OSU breeding program. In Proceedings of the 10th Organic Seed Growers Conference, 12-15 February 2020, Corvallis, USA (pp. 62-63). Organic Seed Alliance. https://www.cabdirect.org/cabdirect/abstract/20203192707
Nalls, M. A., Blauwendraat, C., Vallerga, C. L., Heilbron, K., Bandres-Ciga, S., Chang, D., ... & Rizig, M. (2019). Identification of novel risk loci, causal insights, and heritable risk for Parkinson's disease: a meta-analysis of genome-wide association studies. The Lancet Neurology, 18(12), 1091-1102. https://doi.org/10.1016/S1474-4422(19)30320-5
Niemimaa, M., Järveläinen, J., Heikkilä, M., & Heikkilä, J. (2019). Business continuity of business models: Evaluating the resilience of business models for contingencies. International Journal of Information Management, 49, 208-216. https://doi.org/10.1016/j.ijinfomgt.2019.04.010
Nikitin, A. V., Klimentova, E. A., & Dubovitski, A. A. (2020). Impact of small business innovation activity on regional economic growth in Russia. Revista Inclusiones, 7(S4-3), 309-321. https://revistainclusiones.org/index.php/inclu/article/view/1509
Puni, A., & Anlesinya, A. (2020). Corporate governance mechanisms and firm performance in a developing country. International Journal of Law and Management, 62(2), 147-169. https://doi.org/10.1108/IJLMA-03-2019-0076
Stray, V., Moe, N. B., & Noroozi, M. (2019, May). Slack me if you can! using enterprise social networking tools in virtual agile teams. In 2019 ACM/IEEE 14th International Conference on Global Software Engineering (ICGSE) (pp. 111-121). IEEE. https://ieeexplore.ieee.org/document/8807500
Sutcher, L., Darling-Hammond, L., & Carver-Thomas, D. (2019). Understanding teacher shortages: An analysis of teacher supply and demand in the United States. Education policy analysis archives, 27(35). https://eric.ed.gov/?id=EJ1213618
Vermesan, O., Friess, P., Guillemin, P., Giaffreda, R., Grindvoll, H., Eisenhauer, M., ... & Tragos, E. Z. (2022). Internet of things beyond the hype: Research, innovation and deployment. In Building the Hyperconnected Society-Internet of Things Research and Innovation Value Chains, Ecosystems and Markets (pp. 15-118). River Publishers. https://link.springer.com/article/10.1617/s11527-020-01510-y
Yun, J. J., Zhao, X., Jung, K., & Yigitcanlar, T. (2020). The culture for open innovation dynamics. Sustainability, 12(12), 5076. https://doi.org/10.3390/su12125076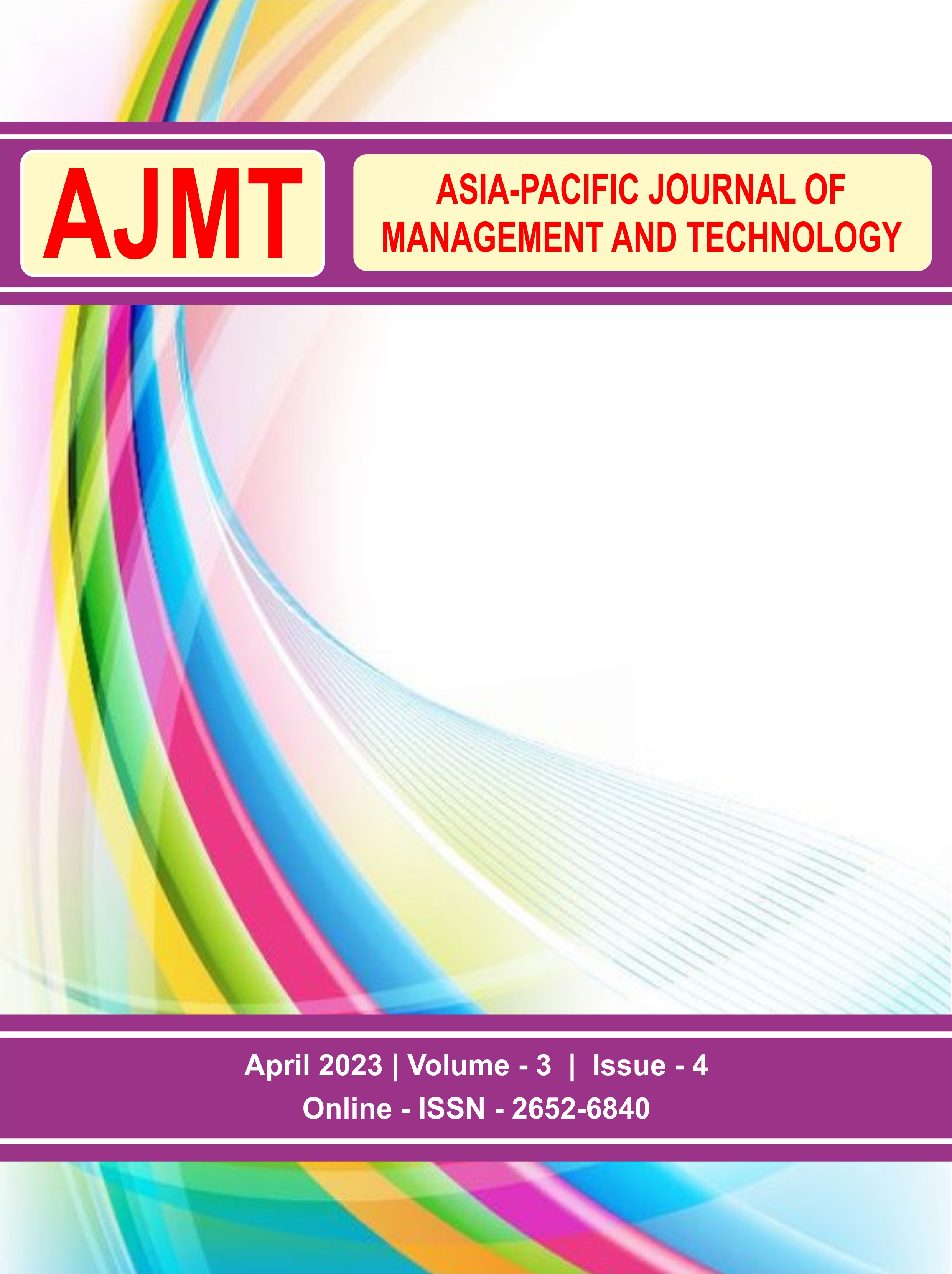 How to Cite
Liping, Q. ., & Zefeng, C. . (2023). The Potential for Major Corporations to Achieve Success through Entrepreneurship, Expanding Beyond the Conventional Focus on Startups. Asia-Pacific Journal of Management and Technology (AJMT), 3(4), 19-25. https://doi.org/10.46977/apjmt.2023.v03i04.003
Copyright (c) 2023 Asia-Pacific Journal of Management and Technology (AJMT)
This work is licensed under a Creative Commons Attribution-NonCommercial 4.0 International License.